With LinkedIn Stories now available worldwide users are facing the question of what they can do with them, how can they use this new tool to their benefit.
To use a tool you need to understand it, so let's make a quick overview of the feature.
Stories are only available through the mobile app.
You can upload video or pictures.
The maximum length of a Story is 20 seconds.
You can tag individual profiles but not pages.
There is a variety of stickers and text you can add to your Story.
A brand new sticker is introduced with LinkedIn Stories – Question of the day.
Once published, your Story is visible for 24 hours, you can download it to your device or share it directly with other LinkedIn members via message.
The goal with LinkedIn Stories is "to start lightweight conversations related to your work-life". So your content should be professionally oriented but lighthearted. However, stories are not just another place to boost our achievements. They can be used to add to your image as a professional. Seeing glimpses of your daily work life can make you more approachable.
So what can you post? Here are 5 things we suggest you try.
Life at work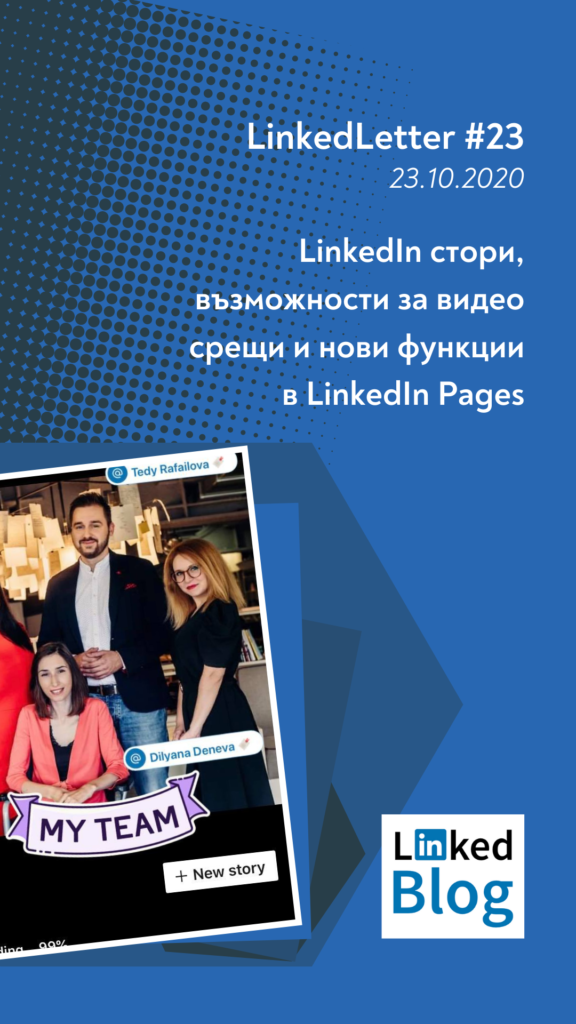 Show your team and your hardworking side with a pinch of fun. Your accomplishments, your awards – they are just the tip of the iceberg. With LinkedIn Stories you can share all the hard work that goes on behind the scenes.
Long business meetings in conference rooms with no windows may not seem like the most glamorous Story content. But the essence of professional life often isn't glamorous, so why not show it as it is? People love to see others work and letting them witness your daily struggles will make them even more appreciative towards your accomplishments.
Sharing glimpses of your day at work can also be used to introduce your colleagues, partners, causes you support, and most importantly – products you work on.
Question of the day
Stories on LinkedIn lack a lot of our beloved stickers used on Instagram or Facebook, but they have a new one – Question of the Day. Ask and answer. This is a great way to share wisdom and healthy habits. Since most questions will be professionally oriented, this is a great way to share your work ethic and your corporate culture.
How does it work? When creating a Story you can post a Question of the Day from the Stickers dropdown within LinkedIn Stories. Not all users have this feature yet, but everyone can answer and share a Question of the Day from another person's Story.
Share your favorite quotes
This is something that never gets old. The quotes you share can tell a lot about your view on world problems, humanity, work ethics. They can inspire others and can capture your daily feelings. This is why we love them.
If it's a quote from an influencer, an author, a public speaker or just a LinkedIn member, tag them and let them know you admire their work. You can add a question to go with the quote in order to spark a conversation with those who see your Story.
Announce a new product or a temporary offer
A LinkedIn Story stays online only for 24 hours. There is no highlights archive like on Instagram where old stories can be stored and viewed again. So why not use this for exclusive or temporary offers? Not only will you promote your product or brand by sharing a special discount code for example, but you will also give users one more reason to check your Stories regularly.
Tips and tricks
On Linkedin we share helpful articles. Lessons we've learned.
LinkedIn Stories give users a great way to do this with multiple connected stories. Using 5 or more stories to explain a concept or share advice is great because it gives quality content and users are eager to watch more. Instead of spending 20 seconds, they stay for a minute and engage with your content.
You can make use of animated text posts, but you can also make a video with a colleague, by yourself or with a guest. If you choose to record a video, keep in mind that most users watch stories with sound off, so put a sticker to turn the volume up.
Inviting guests in your LinkedIn Stories is another great way to introduce your team, your partners and industry leaders you know and admire. You can make a quick Q&A together, an impromptu interview or just share the story of how you met. Don't forget to tag your guest.
Whether you decide to go with one of our suggestions or not, don't miss out on this new feature! With LinkedIn Stories you have the amazing opportunity to be an early adopter. This is your chance to jump ahead of the competition. Because the feature is so new and a lot of users don't know a lot about the content they can post, by using it in the right way you can stand out.
Stories can help you develop and expand your brand and we are here to help you too! Our agency focuses on LinkedIn marketing, audit and consultation. We are always happy to help brands and professionals and to share our knowledge. The Linked Blog is the place where we will share with you interesting and insightful materials that will help you or your company reach your goals in the professional network!
Follow BookMark on LinkedIn and get in touch with our team by sending an email to create@bookmark.bg if you need professional help for your business.