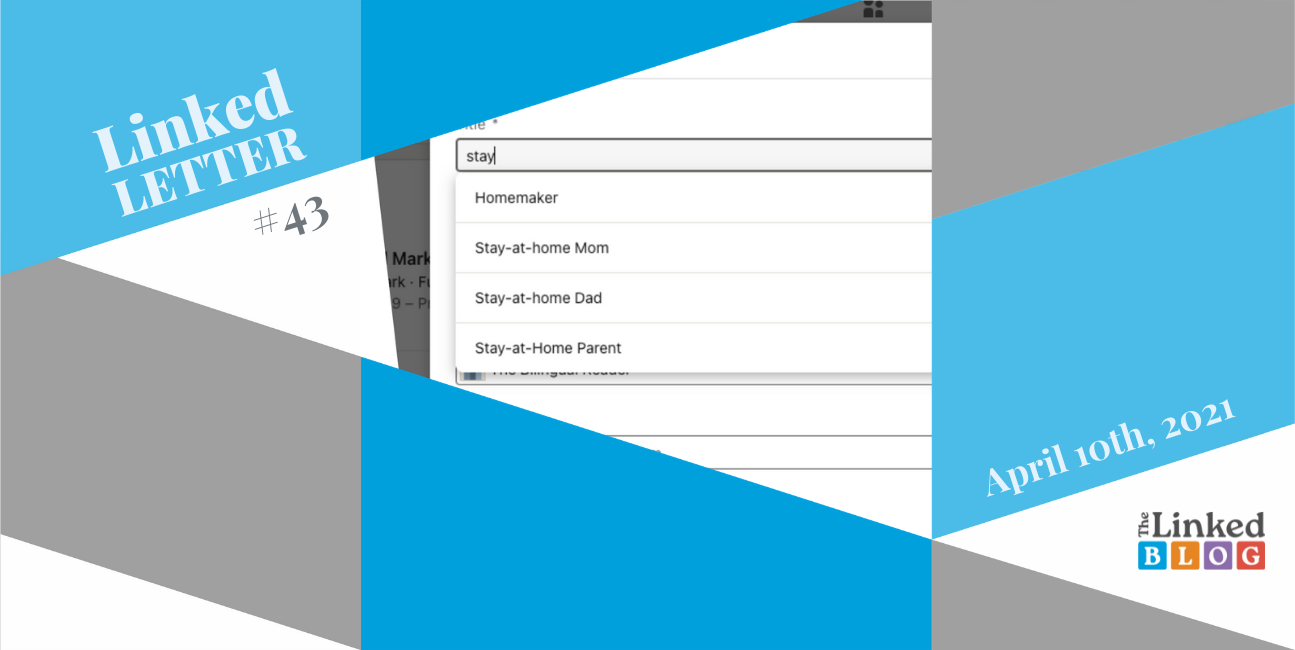 April is Stress Awareness Month so it's no wonder why LinkedIn gave this past week off to all employees to prevent burnout. However there is no break for our #LinkedLetter and the 43rd issue is here with the most interesting news about the professional network.
LinkedIn's list of job titles now include Stay-at-Home Mom, Dad and Parent, as well as Homemaker and Caretaker, on its online resume builder. The new additions come as acknowledgements from the platform for users who have asked for more ways to reflect a caregiving hiatus on their profiles. Because of this LinkedIn is also removing its requirement that any resume entry must be linked to a specific company or employer.
While making strides to become more inclusive for its users, LinkedIn is also fighting to preserve their trust. Earlier this week CNN published an article stating that scraped data of 500 million LinkedIn users being sold online.
Linkedin announced in a statement that "this was not a LinkedIn data breach, and no private member account data from LinkedIn was included" in what the team had been able to review. Read the full statement here.
Common Energy, a leading New York-based community solar provider, announced collaborations with Microsoft, LinkedIn, Corning, Akamai Technologies, and VMware to bring a new sustainability benefit to each companies' employees. This initiative is believed to be the first large-scale program to directly involve employees in community solar.
"This partnership with Common Energy is another significant step in advancing our global sustainability commitment, in alignment with Microsoft," says Peggy Brannigan, Director of Global Environmental Sustainability at LinkedIn. "LinkedIn's vision of creating economic opportunity for every member of the global workforce includes helping to accelerate a clean energy economy and supporting green jobs. We believe these community solar projects do just that, and we're excited to see the impact that this initiative will have on our workforce and the communities we serve."
The Linked Blog team is here to help you or your brand have the best possible LinkedIn presence, so feel free to contact us if you need help!
See what we can do for you here.