The 73rd edition of our LinkedlLetter comes with three interesting pieces of news. Do you want to know more about LinkedIn's First Hybrid Meeting, TrustRadius and LinkedIn Partnership, or why employees are unsatisfied with their jobs globally? If you are curious, don't miss this text!
The 2022 Marketing Jobs Outlook, co-authored by Lisa Sy, Vishakha Singh and Tequia Burt, reveals new insights on The Great Reshuffle. Apparently, employees are confronting unhappiness with their jobs and evaluating their options. Data shows a 54% increase in the number of global LinkedIn users who changed their jobs year-over-year. The absence of work-life balance, compensation and company culture are the top reasons people are leaving their jobs.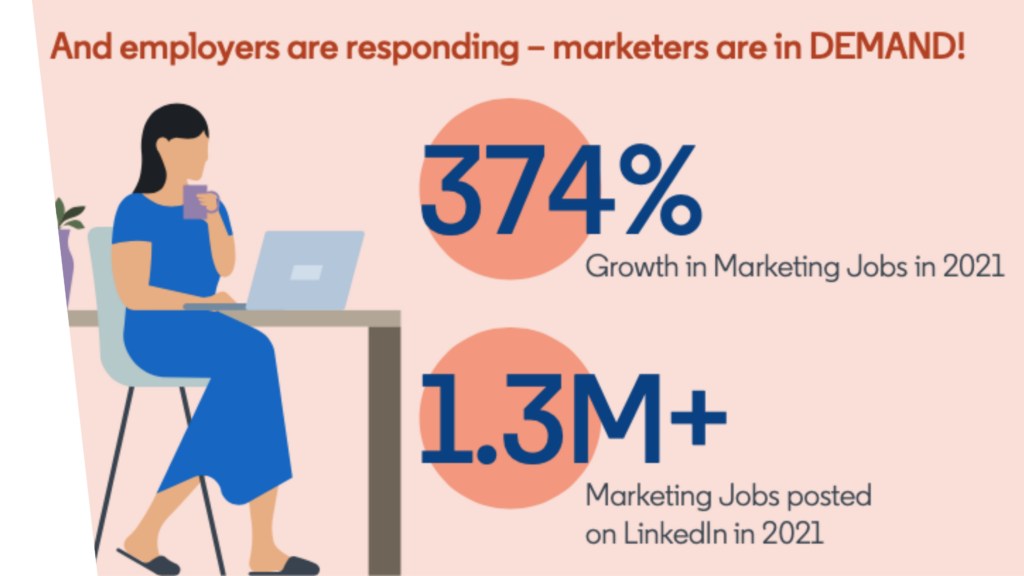 The marketing industry is one of the most affected professional spheres. It saw a 31% growth in marketing professionals who change their jobs year over year. Employers however are taking actions to attract marketers by ramping up their marketing departments. The past year saw a mind-blowing 374% growth in marketing jobs, with 1.3 million marketing jobs ads posted on LinkedIn. To learn more, check out the report's infographic.
LinkedIn employees met for the first time after 2 years. First Hybrid Connect meeting of the Company was held earlier this week. Due to COVID-19 pandemic meetings were remote. Now, thousands of LinkedIn community members had the opportunity to communicate both in-person and virtually.

Ryan Roslansky expressed his gratitude to those responsible for the organizing of the event.
"It was so incredible to feel the energy in our San Francisco office as many of us reconnected or met for the first time", added the CEO of LinkedIn.
TrustRadius Announces LinkedIn Matched Audiences Data Integration. It is designed to help marketers target LinkedIn ads to in-market accounts with tailored content and social proof, such as customer quotes derived from reviews on TrustRadius.


This partnership gives users the opportunity to build dynamic segments of buyers who are actively researching your and your competitors' products. They can also influence qualified, in-market buyers and send them relevant messages to convert them when they are closest to a purchase. In addition to that, they can also boost your return on ad spend, increase conversion rates, and accelerate the sales cycle.

TrustRadius hosted a free webinar on 24th of March to provide more insight into the specifics of the integration. 
The Linked Blog is here to help you or your brand have the best possible LinkedIn presence, so feel free to contact us if you need help! See what else we can do for you here.