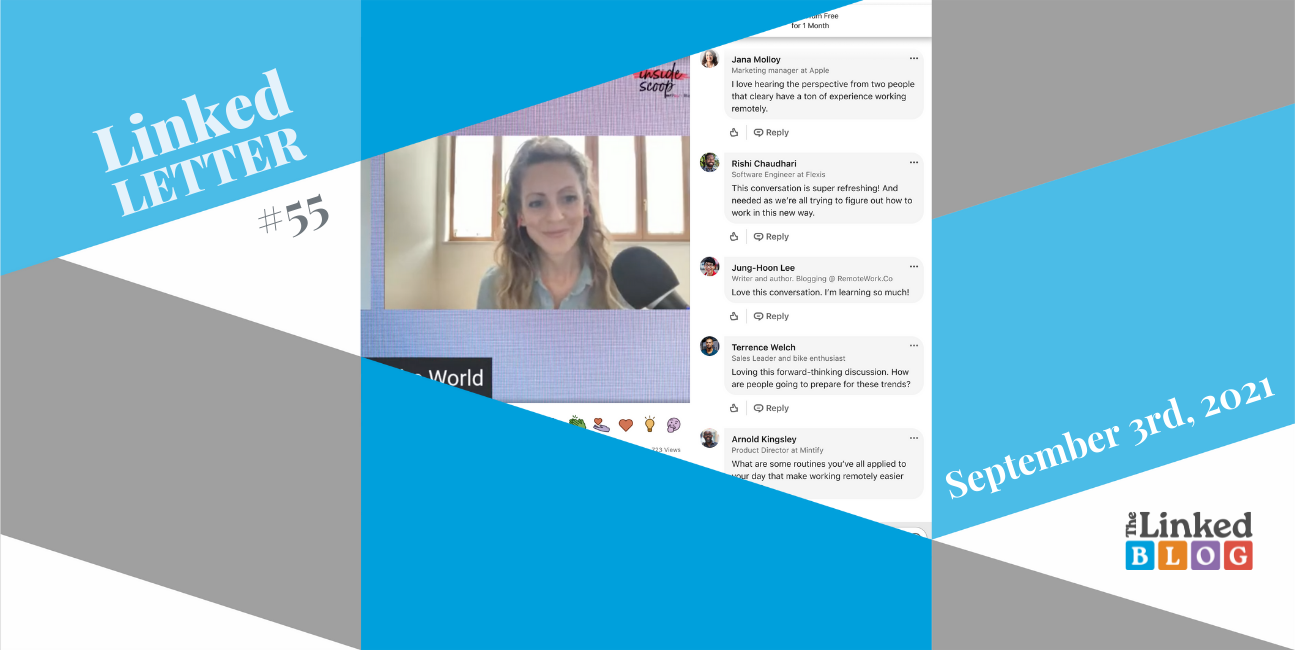 LinkedLetter #55 will shed light on the big change that LinkedIn announced this week – the suspension of the format LinkedIn Stories, the new feature for live sessions on LinkedIn Learning, and the 20 most popular courses on the education platform. Read it till the end because LinkedIn has a surprise for all of you who want to level up their skills!
LinkedIn is shutting down LinkedIn Stories. With an email to all Page Admins LinkedIn announced that the platform is "working on a new format that better supports the needs" of its unique professional users. Starting September 30, Page admins will no longer be able to upload Stories to their LinkedIn Pages, and members will not be able to view them. The news was also announced by Liz Li, Senior Director of Product at LinkedIn, who shared that stories will evolve into "even richer and more conversational" video experiences. The change is driven by aggregated data from users' feedback, showing that they want to:
make engaging videos by using more creative tools
create lasting videos that will not disappear after 24 hours
You can read more here.
LinkedIn is adding live-stream events for LinkedIn Learning. The new feature is called Office Hours. The platform's drive to help learners be always up-to-date with the industry news and interact with instructors encouraged them to add live events. LinkedIn Learning provides over 16,000 video training with the best professionals worldwide. They will now be able to hold live sessions and share experiences, best practices, and new trends. If you have not yet taken courses on the platform, you have the opportunity to try a 1-month free period! Register here. By becoming part of LinkedIn Learning, thanks to the new Office Hours feature, you will be able to engage with professionals and other fellows by posting real-time comments, questions, and reactions. We hope you will take part and learn practical advice from the best experts in the world and apply it in a real work environment!
The platform has revealed its 20 most popular courses in LinkedIn Learning! Moreover, they are now free to watch until 15th October! 
Over the last year, the attendance of the courses has increased by 53%. The work environment is extremely dynamic and changeable. Millions of people around the world are looking for new ways to increase their knowledge to find a new job or just upskill themselves. In the 5th annual list of the most popular courses on LinkedIn, you can find interesting training sessions with which to improve your work, master new skills, and see what is most needed in the labor market. You can find all courses with their learning paths details here. We have listed for you the most popular ones:
And that's not everything! All of the instructors will be hosting live Office Hours sessions all week to help you build strong communication skills and accelerate your career.

The Linked Blog is here to help you or your brand have the best possible LinkedIn presence, so feel free to contact us if you need help! See what else we can do for you here.