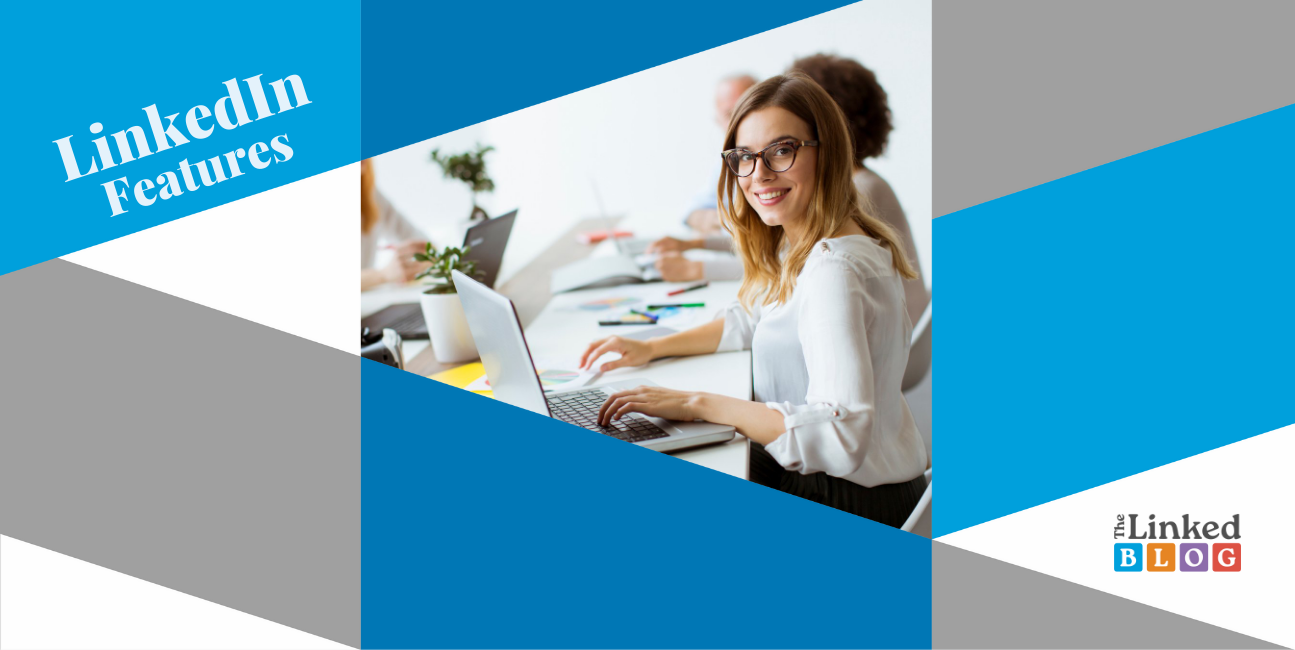 If you read this article, one thing is sure – you have identified Lead generation as an important topic which deserves your attention and time to dive into. Congratulations, you are on the right way! No matter how brilliant your business (or business idea) is, it needs quality leads in order to become successful. And if there is one specific feature of LinkedIn that sets it apart from the other social media networks, this is the quality lead generation that one has the opportunity to create there.
Of course, there are more reasons to prefer LinkedIn, but here we'll focus on this one:
Lead generation is the process of attracting prospects and collecting information in order to turn them into customers.
It's also a way of warming up potential customers to your business and getting them on the path to eventually making a purchase. This article will familiarise you with the benefits of using LinkedIn for Lead generation, the ways you can find leads for free and with some paid strategies too.
There are several types of leads that indicate the position of the lead in the marketing funnel. They are not mutually exclusive but each is a step in the buyer's journey. Hubspot defines these 4 types of leads.
Marketing Qualified Lead (MQL)
These are contacts that are familiar with your company's products or services and show further interest in them. However, they are not ready yet to become customers. It is likely that they will fill in a form to get an offer from you. These are also called "warm leads".
Sales Qualified Lead (SQL)
These leads have clearly shown that they want to become customers. They take actions towards this goal, for example explicitly asking for information about your product or service. They are called "hot leads".
Product Qualified Lead (PQL)
These contacts are your customers who show interest in continuing to be such. PQLs typically exist for companies who offer a product trial or a free or limited version of their product with options to upgrade. An example of a PQL is a customer who uses your free version but engages or asks about features that are only available upon payment.
Service Qualified Lead
These leads have already paid for your service and show interest in becoming a paying customer. Such would, for example, ask for an upgrade of their product subscription.
Does Lead Generation Correlate Directly with ROI?
The ROI of a successful lead generation program depends upon determining qualified leads and moving them along the sales funnel at their own pace. Jumping to the next step (e.g. putting efforts in making a prospect a SQL without making it MQL first) is a prerequisite of lost prospects. However, if you your marketing and sales teams join forces, they can prove these academically grounded facts:
Lead generation drives content marketing. 85% of B2B marketers say lead generation is their most important content marketing goal (Ring Lead, 2017).

Lead generation helps you to direct users to relevant content. Targeting users with content relevant to their position along the buying process yields 72% higher conversion rates. (Aberdeen)

Lead generation can grow revenue in any size company. By building a lead generation strategy, we've seen mature companies achieve  133% greater revenue versus their plan  than average companies, and 174% more than the least mature companies.
5 Elements
Trust
To start with, a crucial thing to remember is that customers need to trust and feel with you before they will share information. So, don't ask for too much, too soon and without balancing the exchange value (what you give towards what you get). Start building a connection (and brand awareness) with the potential customers and then, when they get to know you and your products, go to the next step.
Content
Strong Lead Generation relies on a full funnel content strategy and thus has multiple levels according to the stage where the prospect is. Think about the part of the funnel when you create content for lead generation.
Reach
When your objective is to reach as many customers as possible and tell them about your brand, provide them with content such as blog posts, infographic, industry trends or influencer content. This level would encompass around 60% of your audience.
Nurture
If the customer has been to your website or LinkedIn page but for some reason hasn't converted, you can offer them client testimonials, e-books, case studies, product webinars or white papers in order to get their contacts. Around 30 % of your audience comes in here.
Acquire
Finally, those who have been to your website and have filled a Lead generation form but haven't made a conversion, can be offered with free trials, live demos, product/service sign-ups or setting up a meeting. Here are the crucial 10% you search for.
The top 5 reasons for content engagement according to LinkedIn is as follows:
It's relevant to me – 60%
It's educational or informative – 57%
To stay on top of the latest brands – 51%
It's inspiring – 39%
It helps skill development – 32%
Be a thought leader and make people follow you or your brand because of the meaningful content they can find with you/your company.
Start with organic content to do this. Post 3 to 4 times a week content that is relevant, useful and original in some way to your audience. Use a social media calendar so that you plan your content weeks and even a month ahead. This will keep your LinkedIn Page followers familiar with your products, updates and values.
Sales Navigator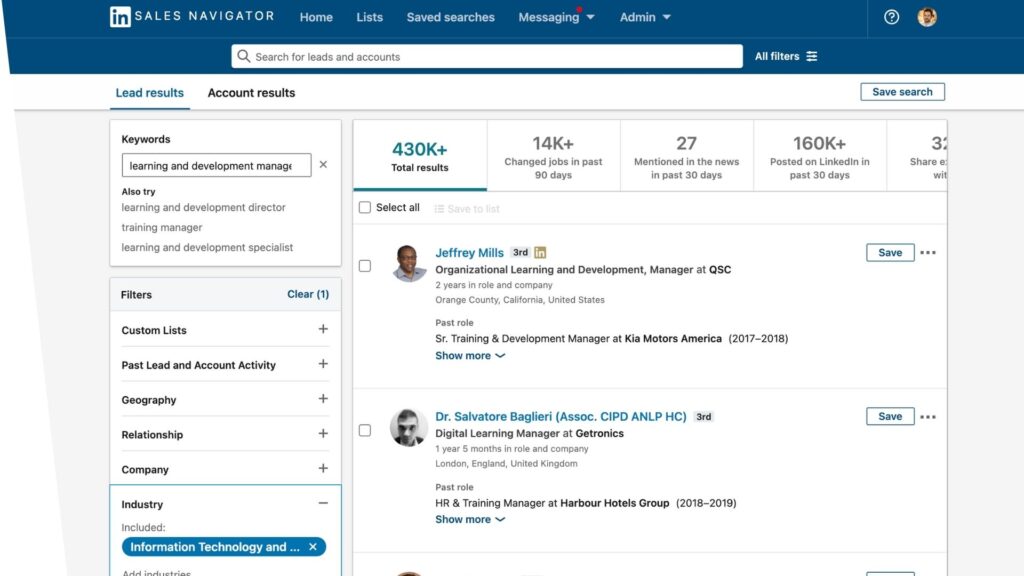 LinkedIn's ultimate tool for prospecting and lead generation is called Sales Navigator. This social selling weapon comes with one of the paid plans and gives you 20 InMail messages per month, unlocks the 'Who's viewed your profile' feature and most importantly – gives you the ability to access the Extended LinkedIn network and save and categorize leads and accounts throughout the professional platform.
For $79.99/month you will be able to use more than 40 search filters in order to find your potential customers and start building relations. If your sales cycle takes longer, Sales Navigator lets you save people (marked as Leads) and companies (Accounts) and wait until the right moment to attract the decision makers into the right stages of your sales funnel. As we've already mentioned, the Lead Nurturing phase is an important part of the lead generation process and that's one of Sales Navigator's biggest advantages.
LinkedIn Advertising
Know who your target audience is
With LinkedIn brands can target the audience that matters most to their business. With ads on LinkedIn you can target your content and your messaging to over 722 million professionals based on accurate complete data on LinkedIn profiles. There are 20 targeting dimensions to define your ideal personas on LinkedIn. The recommended targeting facets are: company name, company size, job title, job function, job seniority and member's skills.
Tip: Beginners should start broadly and try not to narrow down too much their search for leads.
Matched Audiences
When you set up a campaign on LinkedIn Campaign Manager, you can use demographic profile data and your own first party data and match it against all LinkedIn users. You can retarget people who have recently visited your website, bring email lists into Campaign Manager or even find prospects with lookalikes of current customers by uploading a list of your customers.
Define clearly your buying personas and test different campaigns to each persona. This will ensure delivering the right messaging to the right subset of LinkedIn members. Also, have a good thought about how you can tailor your content to your audience. Keep refining your campaigns over time so that you reach the optimal results – it's all about experimenting to some extent and testing variants.
Ad formats
According to Linkedin's statistics, Linkedin's audience has twice the buying power of the average web audience and 4 out of 5 LinkedIn members drive business decisions. So, it's getting clearer that LinkedIn is the place to search for quality leads.
You can use Sponsored Content to promote company updates in the LinkedIn feed across desktop, mobile, and tablet. Let's have a look at the ad formats that you can use in order to find quality leads on LinkedIn. These are: Single Image Ads, Sponsored Video Format, Carousel Ad Format, Sponsored Messaging (Message Ads and Conversation Ads), LinkedIn Dynamic Ads.
You can incorporate Lead Gen Forms into these formats. A great benefit of Lead Gen Forms on LinkedIn is that they can be automatically filled in. When people click on your ad, their profile data automatically populates a form they can submit with one click (it works on mobile and desktop). They'll save time and effort. You'll get more accurate and complete information about your leads.
Lead Gen Forms
Now when you have selected the ad formats you want to use for your campaign, the time to create your Lead Gen Form has come. First of all, you need to think of an attractive offer headline which is up to 40 characters long. Then write approx. 70 characters with the offer's details. Then you need to put a Privacy Policy link that guarantees your form is GDPR-compliant. Last but not least, set up a thank you message which can lead people to your website after submission.
Lead Gen Forms drive 5x higher conversion than landing pages
Watch this short how-to video on how to use LinkedIn Lead Generation Forms:
Tip: Use 3 to 4 fields maximum in your Lead Gen Form to enhance the number of filled forms you'll collect
Don't forget to measure your campaign results!
Real-time reporting in Campaign Manager makes it easy to show the value of your Lead Gen marketing on LinkedIn.
Before starting a campaign, make sure you have covered all the important stages described above. Don't jump into creating a Lead Gen Form without knowing for example what exactly you want to achieve, how you will measure it and how you will present yourself as a thought leader that LinkedIn members would trust.
Tip: Don't forget the details as well as they might be crucial for your campaign's success. For instance, make sure your landing page is mobile friendly since around 70% of LinkedIn users use mobile devices.
The Linked Blog is here to help you or your brand have the best possible LinkedIn presence, so feel free to contact us if you need help!
See what else we can do for you here.