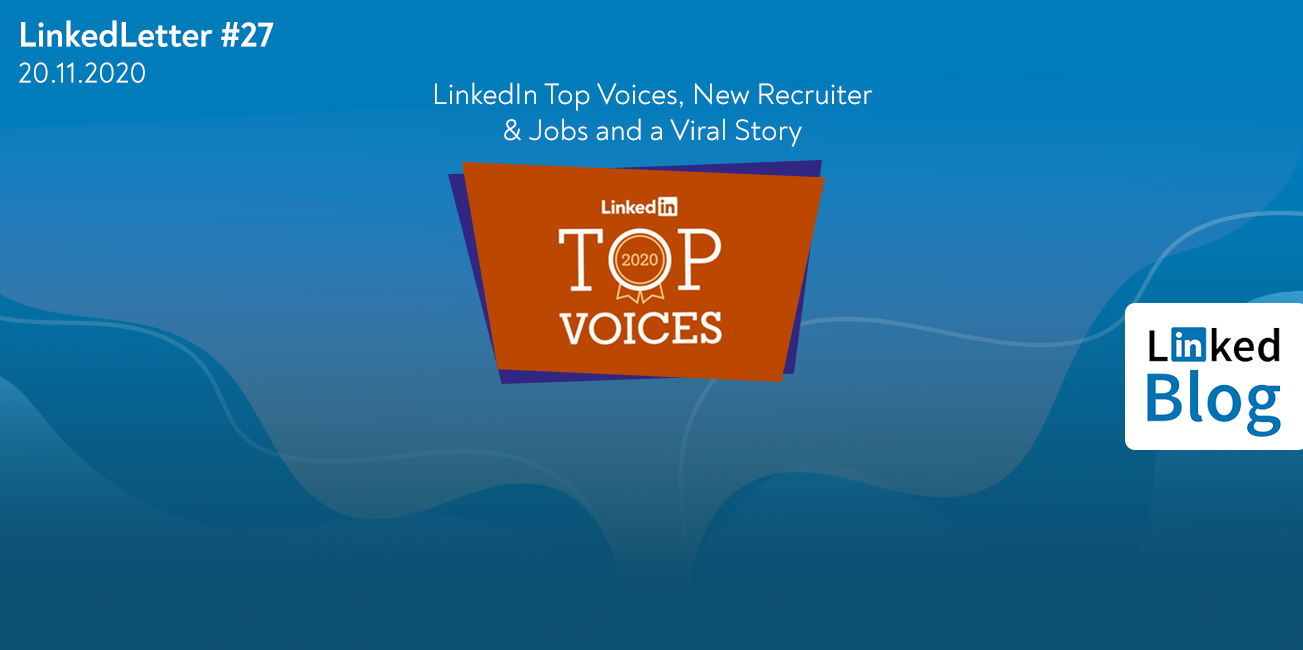 Linked Letter is our weekly digest for the latest and most important news around the professional network from the past seven days. We started it in May at BookMark's webpage, delivering content in Bulgarian. However, after the major shift we recently had with moving the agency predominantly to the LinkedIn Marketing realm, The Linked Blog has become Linked Letter's new home! So, dive into its 27th issue and stay connected.
LinkedIn presented its 6th annual Top Voices series, making the top leaders in different fields to stand out with their stories of success. Daniel Roth, Editor in Chief and VP at LinkedIn News, unveiled the list, calling it a collection of people driving today's business conversations and helping us navigate a changing working world. In his article he explains the combination of quantitative and qualitative filters used by LinkedIn News editors to select the top voices. 10 people get in the final list and here are the categories: Data Science & AI, Design, Education, Entrepreneurship and Small Business, Equity in the Workplace, Finance and Economy, Frontline Health Care, Frontline Retail, Job Search & Careers, Marketing & Advertising, Sales, Sports, Technology, and Influencers. There are also 14 categories by countries.
LinkedIn News presents the top voices by categories in live events, so follow the hashtag #LinkedInTopVoices and LI News to get notifications about the upcoming live videos with the Top Voices of 2020.
Watch one of the live Top Voices stories on Making marketing more intentional:
LinkedIn responded to the changing nature of hiring with a launch of an updated version of Recruiter & Jobs. There are 15+ new features that help recruiters find qualified candidates. Now Recruiter, Jobs and Pipeline Building are merged on one platform, enabling much faster search for qualified members. According to LinkedIn this major update will provide recruiters with more time to engage with qualified candidates instead of making endless searches. You can find details about this here. LinkedIn also will send a notification in Recruiter and will send an email to users 3 weeks before the launch and 2 other reminders later, so that recruiters are well prepared for the change.
LinkedIn is not a boring platform and we won't get tired of repeating that. We're there for the meaningful content but also for the feeling of supporting community. A recent funny example of this came from David Kuhl – General Manager at Salo, living in Naples, Florida, whose post came viral:
"Dad is in a meeting," it reads. "DO NOT ENTER (or lose screen time for 2 days!)"
It goes on: "Answers to your questions: NO, Unless you are bleeding its fine, pieces of fruit, in the wash, ask mom!"
Since he posted the photo made by his wife it aggregated nearly 4,000 comments and more than 110,000 reactions. This massive public appreciation clearly demonstrates that sharing struggles and not only shiny achievements makes us look like real humans and not like robots. So think about this when you have a funny daily work moment to share. Don't go too far but remember that being a great professional does not mean you don't have your weak moments and it's worth sharing that on LinkedIn from time to time.
For more tips about how to take care of your personal brand on LinkedIn, don't hesitate to contact us at create@bookmark.bg. You can also see what else we can do for you here.