What a year for our team! We are leaving behind 12 wonderful months full of emotions, new meetings, partnerships, and unforgettable moments! We are looking ahead with hope for 2022, and, of course, we are looking forward to even more surprises by LinkedIn. In our first LinkedLetter for the year, we are sharing more about some of the long-awaited changes in online events, new functionalities for company pages, and the appearance of audio rooms, currently in a test period. Sounds like a lot for just a few days since the beginning of the year. Can't wait to see what's next in the upcoming 12 months!
Raise your hand to join the speakers!
The transformation of LinkedIn Events into interactive webinar-like live broadcasts continues. Soon participants will be able to take part in the live conversations by raising their hands and joining the speakers "on stage". Platform's Leading Product for Video, Creators & Events Jake Poses shared the news in a recent article where he also adds:
We've seen this on LinkedIn as the annual creation of virtual Live Events has increased 150% YOY, with a 231% YOY increase in annual virtual event attendees.

Jake Poses, Leading Product for Video, Creators & Events, LinkedIn
The format is called "live video events" and will be available later this spring.
Talk to me!
But first – Clubhouse comes to LinkedIn! Sort of. No later than the end of January should we observe the first tests of audio events where only voice will be used. Just like with Clubhouse's rooms and Facebook's audio rooms, LinkedIn users will be able to create an event in advance, attract listeners, and even attract some of them as speakers, probably in real time.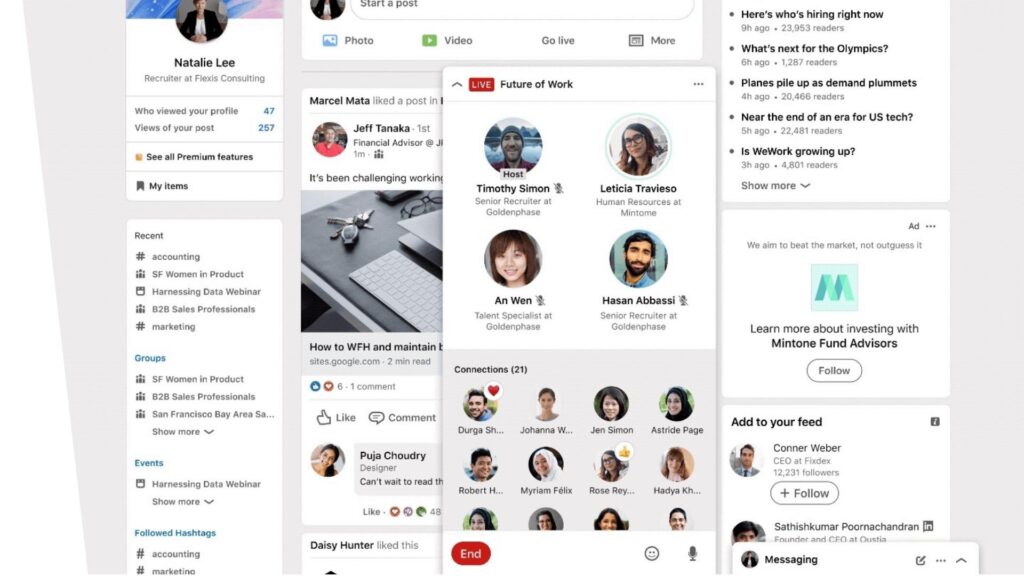 Finally – Newsletters for Pages!
Yes, we left the most important news for the end of this LinkedLetter – Newsletters for Pages are coming to town! A couple of months ago we shared that newsletters are now open for all LinkedIn users. We even devoted the 63rd LinkedLetter to show you how to activate this feature and to send your first newsletter on the platform. Now you are also able to send a newsletter from your company page, as announced by our friend Michelle J Raymond, co-author of "Business Gold" and one of the alpha-testers.
Now, this comes as a native alternative to content marketing via e-mail, but your approach should probably use both channels simultaneously, reaching complementing audiences.
In 2022 we are foreseeing an increase in the number of articles created by companies and we expect to witness the growing tendency for publishing high-quality content in longer formats on the professional network. And in fact, we're looking forward to inviting you to read all the editions of the LinkedLetter directly on LinkedIn as a newsletter on our LI page.
The Linked Blog is here to help you or your brand have the best possible LinkedIn presence, so feel free to contact us if you need help! See what else we can do for you here.