"Why did people start publishing random stuff on LinkedIn – looking pretty stylish, but still empty and meaningless?", a friend of mine asked me yesterday. All I could answer her was "I've been wondering the same thing", because… I'd already started this article.
Keep reading it and if you see your favourite type of updates in any of these lousy tactics, just… stop posting them.
1. Useless Polls (Daily)
See, asking where do we prefer working from – office, home, or hybrid – is so 2020-ish. Unless you're representing the U.S. Census Bureau or Eurostat (which in both cases you most probably aren't), there is no reason to ask this time and again.
Polls are cheap reach – the easier the question, the more answers you'd receive. But will this bring you more followers, will this attract qualified leads to your business? Or many people will learn that you're somewhat good at telling jokes.
When do you prefer having your lunch – mornings or evenings? Ha. Ha. Ha.
Keep posting polls but do it in a smart way: not more than twice a month and in regard to your own expertise. Explore the gaps and fill them! Are you a subject matter expert in any field? Show that to your connections and followers by extending the answers of your polls with follow-up long-form updates like articles or documents.
2. Non-business related tear-jerking viral videos
I know you've seen those guys with their mega viral posts showing the next big thing in technology or just another young person who has just defeated death. They have millions of followers and might be considered the next-gen B2B influencers. Since I probably sound cold-hearted, the truth is most of their updates are fake. And still that kind of posts attract hundreds and thousands of reactions and (!!!) comments.
Next time try harder and search for a cause you and your network genuinely care about and could support. In the age of fake news and negativity, it is the right time to find the miracle workers on LinkedIn and show them our respect. And leave the low-quality content to Facebook and Instagram.
3. Annoying memes and stories that we'd already seen dozens of times
Lumko said it best – stop with all the parables and "success stories" that we can read in every second profile on LinkedIn.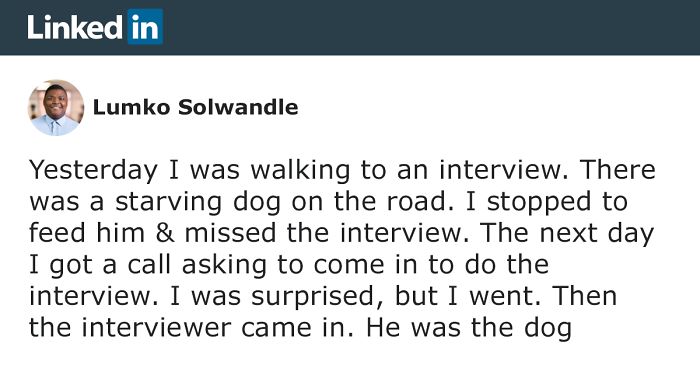 Tell us yours instead! What you can do, what you have learned through the years, what you have achieved – that's all that matters. Give your audience valuable details for your field of work – they're on LinkedIn to find help, learn, and expand their career options.
LinkedIn shouldn't be a boring place, but unless you're auditioning for SNL or America's Got Talent, focus on the moments and ideas that made you a better professional.
At least Ryan Reynolds does it right! (Well, he's always funny).
4. Stolen intellectual property
This is one of Liz Fosslien's most frequently stolen updates. You've seen it. A lot! And you probably haven't ever heard of Liz, since her signature is usually missing from the images numerous LinkedIn Johns and Janes share. But Liz has a unique talent and uses it to build her professional brand on LinkedIn.
Be more like Liz and never like John and Jane. If you see a post that you like pretty much, just share it. Yes, this means less reach for you, but hey – it's someone else's idea and talent, right? Then start thinking of your own formats and ideas that are worth sharing.
5. Well, this one's for you to decide!
There is a lot of crazy stuff on the professional network these days and we should probably say "No!" to many of them. If you had the power to convince people to stop posting any kind of content on LinkedIn, what would it be? Tell us in the comments!