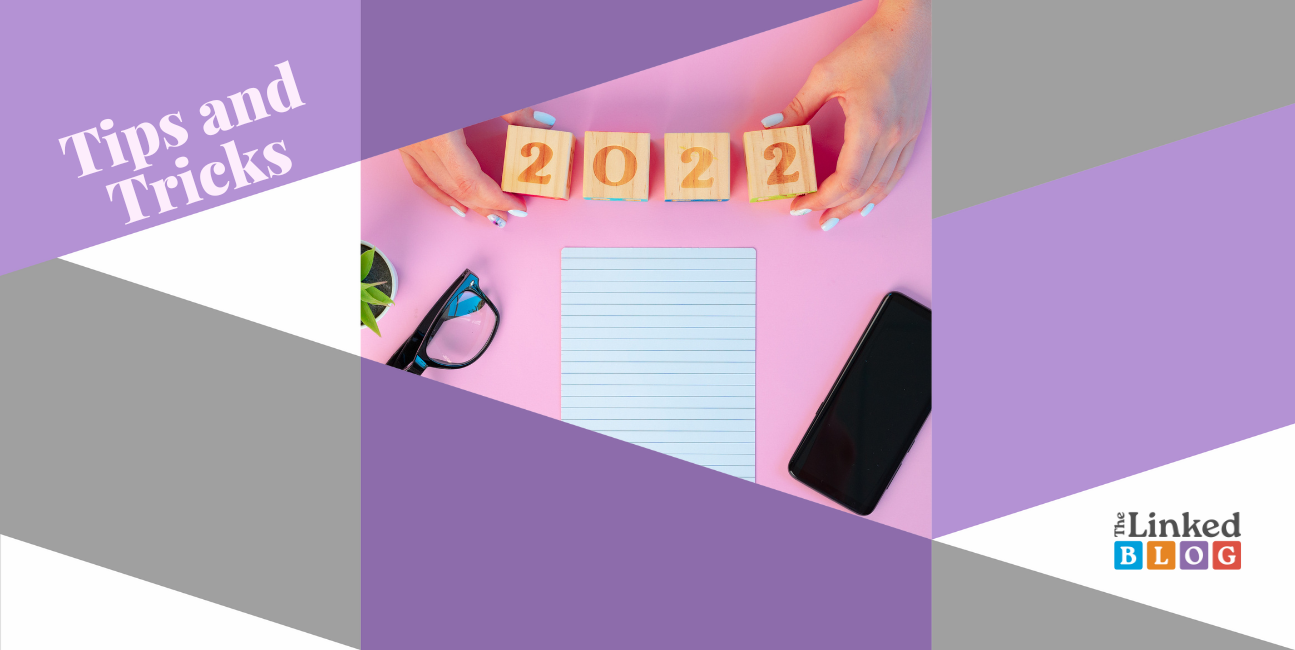 Notes from the Author
Welcome to our yearly recap of the 10 most read articles on The Linked Blog! We are thrilled to be able to share this information with our readers and to take a look back at the past year to see what content resonated the most with our audience.
At the beginning of 2022, we set out to provide valuable and informative content about LinkedIn and its many features and benefits. We aimed to help our readers navigate the platform and make the most of their LinkedIn experience, whether they were using it for personal or professional purposes.
Throughout the year, we covered a wide range of topics related to LinkedIn, from tips on how to improve your profile and increase your visibility, to advice on networking and job searching. As we look back on the year, we are pleased to see that our readers responded positively to the content we produced. The 10 blog posts featured in this yearly recap represent the most read and shared posts of the year, and we believe they provide a valuable snapshot of the LinkedIn landscape in 2022.
In this post, we will take a closer look at each of the 10 most read blog posts and highlight the key takeaways and insights they offer. We hope that our readers will find these recaps useful and that they will continue to engage with our content in the coming year.
So without further ado, let's dive into the 10 most read articles of 2022 on our blog!
Changing Jobs? Here Is How You Should Share The News On LinkedIn
In this article we presented you with some valuable tips on how to announce your job change on LinkedIn. We suggest that you should express gratitude to your former employer, highlighting your accomplishments and maintaining good relations with former colleagues. The article also recommends providing details on why you are excited to join your new company and announcing the news within the first couple of weeks of starting your new job. Finally, engage with comments and reactions on your LinkedIn update to increase the chances of it being seen by more people. Read the full article here.
How to Remove Employees Who Never Worked for Your Company and Spot Fake Profiles?
We demonstrated how to report fraud or questionable content on LinkedIn in this post. If you notice inaccurate information or potential fraudulence on a user's profile, you can fill out a form on LinkedIn's website to let the platform know. This form can also be used to report suspicious activity or accounts. The article also provides some tips on how to spot fake profiles, such as checking the profile picture for pixelation or discrepancies and being wary of unrealistic job offers. Remember to only report content if you are certain it is fraudulent or suspicious. Read the full article here.
3 Reasons Why You Should Make Your Profile Public
Here, we explore why it's important to make your LinkedIn profile public. By keeping your profile public, you can be easily found by potential partners and recruiters through search engines, build connections both on and off LinkedIn, and boost business communications by displaying your expertise. We also provide a step-by-step guide on how to make your profile public. By making your profile public, you can maximise your exposure and ability to grow your network on LinkedIn. Read the full article here.
Microsoft's FY22 Q3 Report: LinkedIn Continues Its Record Growth In Engagement Rates
In this post, we discuss LinkedIn's performance in the quarter ending March 31, 2022. The professional networking site reported a 34% year-on-year increase in revenue, reaching $3.44 billion, and "record levels of user engagement" during the quarter. LinkedIn added that 28 million members now subscribe to at least one newsletter, up 51% from the previous quarter, while Talent Solutions revenue increased 43% in the quarter. LinkedIn sessions grew 22% within the quarter, underlining its steady growth. Microsoft CEO Satya Nadella said that the platform is seeing "a skills-first labour market emerge". Read the full article here.
5 Things You Should Stop Posting on LinkedIn Right Now
Five common types of content that are often posted on LinkedIn but are generally seen as annoying or useless are presented in this post. These include daily polls that ask the same questions repeatedly, viral videos that are not related to the user's business, memes and stories that have been shared many times before, stolen intellectual property, and other types of content that users find annoying or unhelpful. We suggest focusing on sharing original content that is relevant to your field of work and that provides value to your connections and followers. Read the full article here.
From Boring Explanation To Visual Representation: Diversify Your LinkedIn Content With Infographics
Here, we discuss the importance of visual content, specifically infographics, in digital marketing, particularly on LinkedIn. Infographics are visual representations of data or ideas that use illustrations, graphs, and minimal text to explain an idea and are an effective tool for visual communication. Infographic marketing refers to the use of infographics to convey a brand's message and differentiate a business from competitors while improving brand visibility. When used effectively in marketing, infographics can effectively convey information and grab the attention of viewers.
The article also provides tips on how to create and use infographics in LinkedIn posts.Read the full article here.
Thinking About Starting Your LinkedIn Newsletter? Here Is A Working Approach!
This article is about LinkedIn Newsletters and how to create a successful one. LinkedIn Newsletters are a set of regularly published content on a specific professional or academic topic. We provide advice on how to create a successful newsletter, such as defining the target audience and choosing the right topics. Also, the benefits of publishing a newsletter, such as targeting a wider audience and engaging readers are discussed. The article also includes an interview with successful LinkedIn Newsletter creator Mario Peshev, who shares his tips and experience. Read the full article here.
Know Your LinkedIn Ads Audience With Campaign Manager Insights
Here, we explains how to use LinkedIn's Audience Insights feature to improve your LinkedIn ad campaigns. Audience Insights is a tool that allows advertisers to see detailed data about their target audiences, such as location, function, seniority, industry, and company name. The article provides tips on how to effectively use Audience Insights, such as identifying additional targeting criteria for saved audiences, identifying high-performing content topics, and using the data to measure the success of your campaigns. Read the full article here.
Game Changers For Your LinkedIn Profile – Skills and Recommendations
Importance of Skills and Recommendations on LinkedIn are highlighted in this article. Skills are keywords that show hiring managers and recruiters what you are qualified to do. Recommendations, which are endorsements from your connections, add validity to your online resume and back up your expertise. The article provides tips on how to create a strong set of Skills and Recommendations that will help you land your dream job or attract potential business partners. It also includes a list of the most searched-for skills on LinkedIn and advice on how to ask for recommendations. Read the full article here.
Why You Should Start Using LinkedIn As a Student
And last but not least – Tips for students who just started using LinkedIn! The platform can be a valuable tool for students to explore career opportunities, build professional networks, and create their personal brand. The article provides advice on how to build a strong profile, make connections, and engage with the LinkedIn community to take advantage of the opportunities the platform offers. It also discusses the benefits of using LinkedIn to find internships and jobs, and to learn from mentors and experts in the field. Read the full article here.
In conclusion, we are grateful for the support and engagement from our readers throughout the year. These articles covered a range of topics including how to improve your profile, content tips, and the latest updates from the platform. We value your engagement and feedback, and we are always looking for ways to improve and provide even more valuable content.
As we move forward, we will continue to provide informative and useful articles about LinkedIn, as well as other related topics. We hope that our blog continues to be a valuable resource for professionals looking to connect and succeed on the platform. Thank you again for your support.