LinkedIn is a platform where you can build your brand and share your expertise with your audience. With over 750 million users in 200 countries, the world's largest professional social media can help you connect with employers and partners, keep up with trends in your industry, and network with professionals. 
Recruiters and top companies use LinkedIn to expand their talent pool, making the site especially useful for job seekers. In order to present yourself as the perfect candidate for your dream job or the top expert in your field, there are two sections you need not to neglect. As Linkedin experts, we know the value of Skills and Recommendations and how they can improve your efforts to land your dream job or gain the interest of your next client. Let us share.
Skills & Endorsements
One of the key parts of your LinkedIn profile is the Skills & Endorsements section. In this part, you can list your skills, and other LinkedIn users can endorse you for them. No matter what you list – soft or hard skills, it is important that they appear relevant for your career and goals. They must be qualitative and factual, related to your work. Each skill is a keyword, so don't underestimate the power these 50 skills have. Listing them in your profile is like putting guide lights for your next employer or partner.
LinkedIn is a platform that always tries to validate the information users publish. This is why the platform encourages you to take skill quizzes. You can do this by clicking the button that is situated on the right side next to the Skills section at your profile. This allows you to receive a badge that shows you passed a LinkedIn Skill Assessment, and it shows hiring managers that you possess the qualities they are looking for in their future employee.
Remember that you don't want to just list a lot of skills, you aim at listing the right skills that show hiring managers and recruiters what you are qualified to do. If you use LinkedIn to attract potential business partners, focus on the skills tied to your industry that they will be looking for.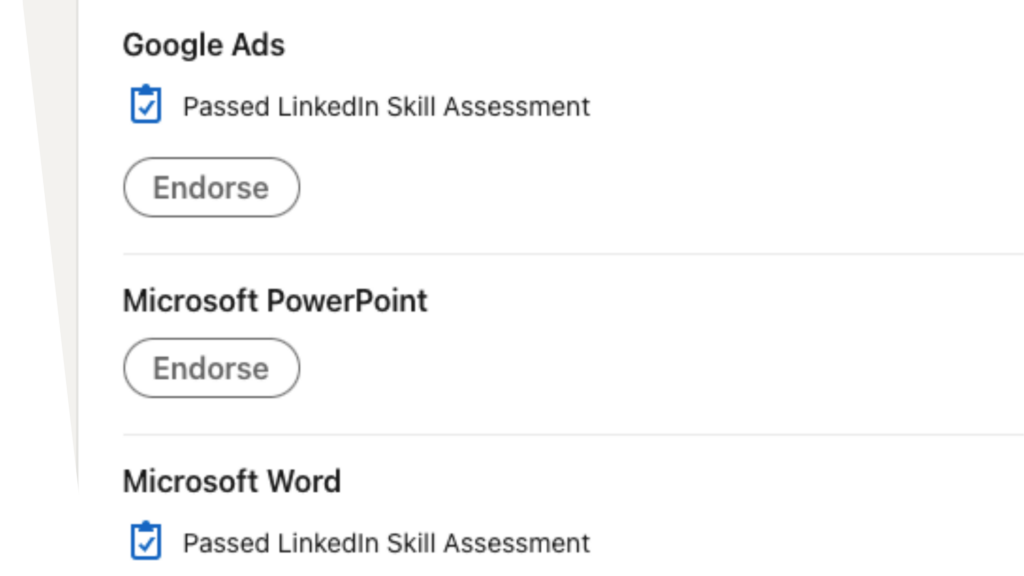 The endorsement feature allows your connections to endorse you for a certain skill which is adding validity to your online resume and backs up your expertise. When you endorse someone, it is very likely for them to come back to your account and do the same.
Depending on your goal, you can stimulate members to endorse you for a specific skill – for example, "Leadership" – if you're trying to expand your team. Just ask them to give you their honest opinion.
Here is a short list of skills that are most searched for on LinkedIn:
Creativity
Persuasion
Collaboration
Adaptability
Emotional Intelligence
Blockchain
Cloud Computing
Analytical Reasoning
In the last few years, great importance has been given to soft skills such as emotional intelligence and empathy. They take a huge role when dealing within a working environment, because, at the end of the day, we are working with other human beings and not robots, and skills such as collaboration and adaptability are appreciated when working in teams. You can find different courses to gain new skills with LinkedIn Learning as well.
Recommendations
Word of mouth marketing. You know it, don't you?
Word of mouth marketing is probably one of the very few promotion methods that we know won't stop producing good results. On LinkedIn, the best way to do it is by giving and receiving recommendations.
The first step to creating a strong set of recommendations is to carefully recognize the professionals you want to appear in your profile. You should have a diverse mix of professionals that have worked with you through your career and know your qualities. If you're looking for a new job, focus on managers and colleagues, but also mentors and professors that helped you learn, even people you have mentored or supervised. If your goal is to position yourself as an expert, a team leader or as a trusted partner to provide services, focus on previous clients and team members.
LinkedIn allows you to request a recommendation. This is so important, that we even included composing these recommendation requests in our LinkedIn for Newbies: The Holy Trinity of LinkedIn Messages article. You can encourage them to share about a specific quality of yours that you want to put the highlight on. If you want them to be specific, be exact in your request. You also have the option to ask members to edit their recommendation or decline it.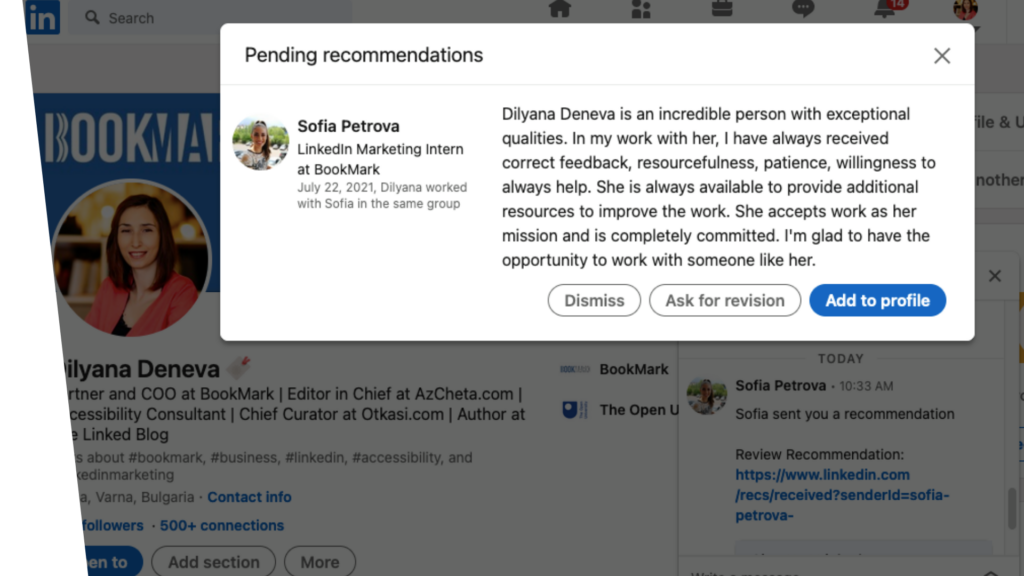 Asking for a recommendation is only part of the effort. You can also encourage professionals to write you one, by giving them a great recommendation first. Identify your current colleagues or ones you have worked with in the past, and leave a good and honest one. However, there is an unwritten rule for giving powerful recommendations that goes "Show, don't tell". Be sure that you don't just provide empty statements, like "She is a good and hard-working colleague of mine", but dip into your mutual working experience and give specific examples. Don't be shy and shed light on their best accomplishments by even using storytelling!
We hope that you are now more convinced than ever to take full advantage of the Skills and Recommendations sections! Do not hesitate to contact us if you have any questions – we are here to answer.
The Linked Blog is here to help you or your brand have the best possible LinkedIn presence, so feel free to contact us if you need help! See what else we can do for you here.