Half a year ago LinkedIn added 3 new features to its portfolio: "My Company" Tab, "Events" Tab, and View Page Followers. Their main purpose is to strengthen the connection between businesses and their communities during the unexpected COVID-19 situation. This article will pay attention to the "My Company" Tab that was created to help companies keep their employees informed and engaged with their organization. Since so many people are working remotely, the "My Company" page is a place where people see up-to-date information and news about their company. They can also interact with one another, celebrate different key accomplishments within the organization, and amplify the organization's messages.
If you have just started working in a new company, and you want to access its "My Company" Tab, you should follow these 2 basic steps.
Add your current role and the organization in your profile's Experience section.
Find your organization's Page. You'll be routed to the My Company tab by default.
Below, I will introduce you to the 4 sections of the feature which contain different content.
1. 'Company Name' today
Here is the place where you can see insights of your Company, such as new hires from the last week or coworkers and organizational milestones, like career advancement, anniversaries, and key accomplishments.
2. Coworkers you may know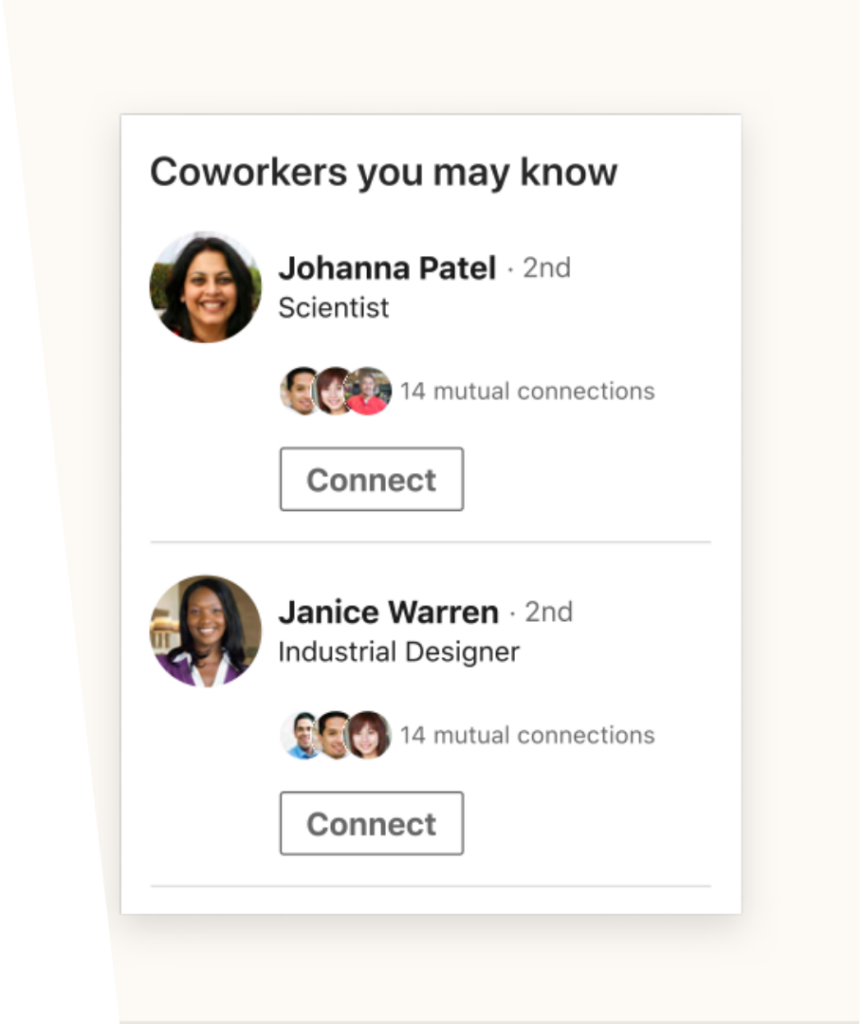 In this section, LinkedIn suggests you the people who have most recently associated themselves as employees in your Company on LinkedIn. These suggestions are based on your location, team, and mutual connections. Sometimes, if it is relevant, you can see the stock price of your company too.
3. Recommendations
The brand advocates play the most important role by developing a strong brand identity and employer branding. They can amplify the key messages of your company through the "Recommendations" section. There, organic posts and content, curated by your marketing and talent branding teams, can be recommended to employees to reshare. As a marketing tactic employee advocacy is a strategic weapon to encourage employees to share brand values and messages in an organic way. Note that the tab is available for companies that have more than 200 employees. In fact, on average, a company's employees have ten times as many connections as a company has followers. So, having the chance to count on your employees' network when spreading a message is priceless.
4. Trending coworker content
The so-called "Trending coworker content" is the place for coworkers to interact with each other. Here is how it works. When a coworker shares something on the platform, and it is evaluated as a 'trending' post, the LinkedIn algorithm will share it right on the" My Company" Tab. A poll of workers (700 respondents) conducted by the Royal Society for Public Health's (RSPH) found that 67% of workers who shifted from the office to home during the pandemic felt less connected to their colleagues. With that in mind, LinkedIn tries to give an opportunity for millions of coworkers to stay connected and thrive in the virtual working environment. We suggest you leave a comment and share your opinion on a certain coworker's post, or just react with an emoji. This will help you and your coworkers be more connected and engaged with each other, even if you are hundreds or thousands of miles apart.
It is important to know that LinkedIn Page super admins can turn the "Trending Coworker Content" feature on and off. It is on by default but super admins have the permission to turn it off whenever they want. That will make it invisible for all employees in the company.
ProTip: Consider leaving the "Trending Coworker Content" feature on, as it brings many benefits to your brand recognition and advocacy!
"Employee advocacy" analytics and brand new role
The new tab comes with a brand new role "Curator". The role of this employee is to recommend content to the other employees. But what is more important is that the curator can access the "Employee advocacy" tab, including analytics, measure reach, and export data from there. Recently, the platform added a new tool allowing curators to curate unique content, share that content with the employees, so it can be reshared organically. And you know what? All of this is for free. So, if your company has more than 200 employees, try to make the most of this tool.
In the beginning of this video you can see how to make an employee a "Curator" and which analytics are available on the "Employee advocacy" tab.
Improve your brand recognition
Strengthening brand recognition now can be easy with the help of this powerful tool. An internal LinkedIn data shows that employees are:
14x more likely to share their organization's Page content
60% more likely to engage with posts from coworkers
By sharing organizational content right on LinkedIn, you can help your business become more recognizable, increase awareness and also find more quality leads. LinkedIn's data shows that engaged employees bring 8x more company views and 4x more followers. Companies also get more job applications since they're using the "My Company" tab and its feature "Trending Coworker Content".
In conclusion, we want to suggest you use the feature as a source of inspiration for your posts and as a way to help the MarCom (Marketing and Communications) team spread the messages of the Company.
The Linked Blog is here to help you or your brand have the best possible LinkedIn presence, so feel free to contact us if you need help! See what else we can do for you here and follow us on LinkedIn.