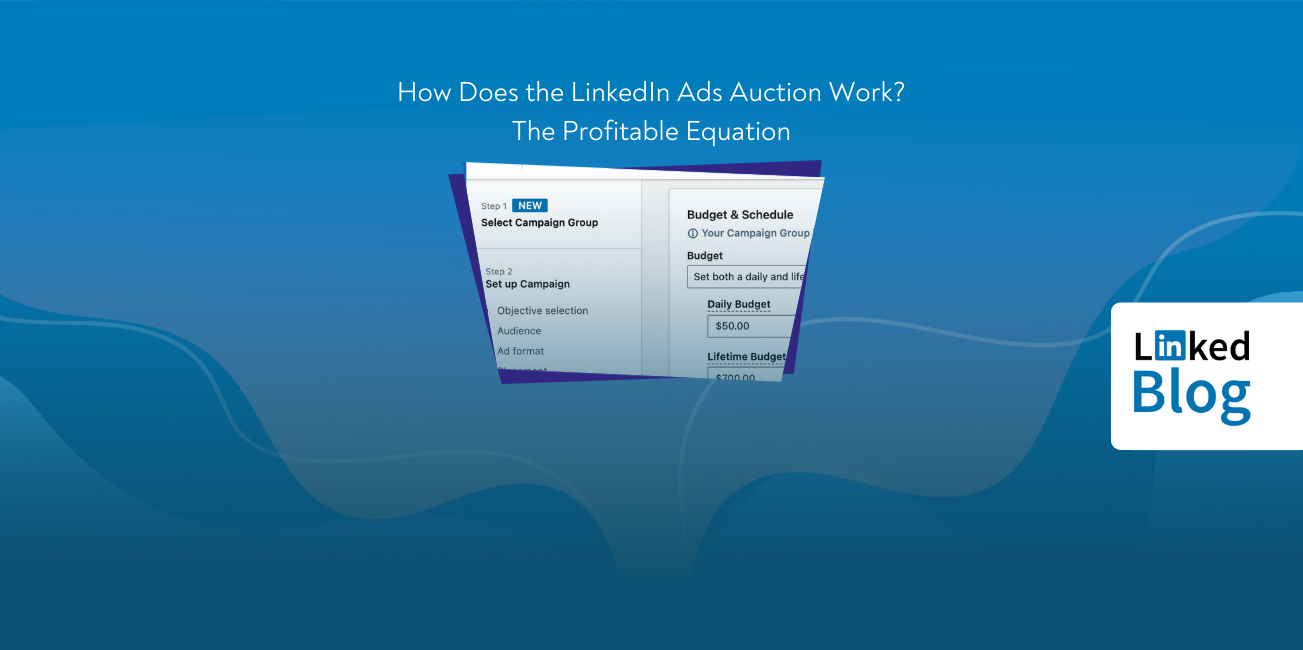 The Profitable Equation
If this article's title has caught your attention, then you've most probably disbelieved the good old myth that advertising on LinkedIn is just too expensive. It is expensive indeed, but only on the surface, since this is the digital realm where you'll have the opportunity to reach the right people. And LinkedIn has the tools to help you with that. Here we will explain the principles of auction advertising on the professional network so that you can successfully start your campaign right after reading it!
To begin with, let's see who the three stakeholders in the LinkedIn auction are.
Advertiser
Supposedly, this is you, having the intention to advertise on the platform with around 60 million decision-makers, 90 million senior-level influencers, and nearly 10 million members of the c-suite worldwide.
LinkedIn member
This is your audience – those prospects that you would like to be reached by your amazing ad.
LinkedIn
Welcome the host! LinkedIn will make sure both sides 1 and 2 are treated fairly and everybody is satisfied with the end results.
Hundreds of millions of auctions take place everyday across the LinkedIn member network. So make sure you read a bit more carefully below in order to grasp the essentials when preparing your ad campaign in a hugely competitive environment.
Determine your campaign objective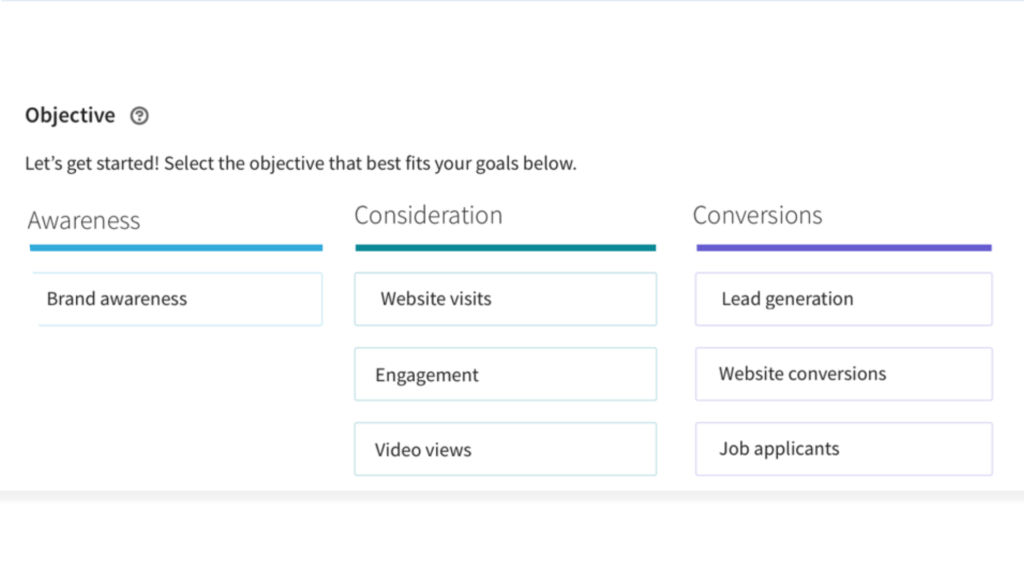 Campaign Manager – that's the official name of LinkedIn's self-serving ad tool – is objective-based. That's why the platform aligns its ads pricing, bidding, and delivery with the selected objective to provide OBO (Objective-based Optimization) which optimizes the campaign performance and scales the advertiser ROI for objective-based key results.
Objectives are grouped into three categories, following the different stages of the Sales Funnel:
Awareness (brand awareness)
Consideration (website visits, engagement, video views)
Conversion (lead generation, website conversions, job applicants)
We will not go deeply into the reasoning behind each of the categories, however you should be fully aware what your campaign goals are and at which part of the marketing funnel your audience is.
Now comes the exciting bidding part!
LinkedIn considers three things:
Your bidding strategy (bid type);
The maximum amount that you are willing to pay;
And the quality score of your ad.
Let's have a look at what each of these mean.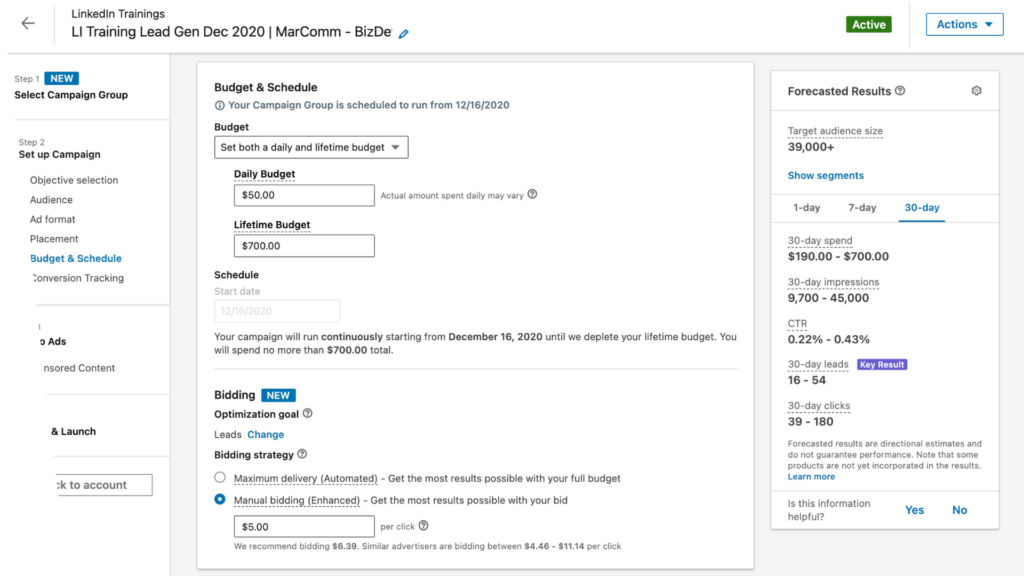 1. Bidding strategy
Not all bid types are available with all LinkedIn ad formats. They are also aligned with the different ad objectives that Campaign Manager offers. Therefore, not all types are available for all objectives.
Automated Bidding – this option uses AI to calculate the best results for your budget, while spending your budget in full. This type of bidding charges by impression and supports only Sponsored Content. If you're a starter, you can rely on it, but advanced bidders should learn more about the other options below.
Target Cost Bidding – this option is for CPC, CPM, CPV, and is also an automated bidding option that provides advertisers an opportunity to specify their target cost. Campaigns are optimized to generate the most results, and the daily average cost per result will meet the specified target cost value, or up to 30% higher.
Maximum Cost Bidding – here you can set the maximum bid amount you are willing to pay for, making sure that what you pay at the end of your campaign will not exceed that value.
Enhanced CPC Bidding – here you can bid on a cost-per-click (CPC) basis. LinkedIn will optimize your bid to those more likely to click, engage, or convert. Enhanced CPC Bidding is limited to these campaign objectives: Website visits, Engagement, Lead Generation, and Website conversions.
ProTip: You should always optimize towards your objective, but if you have higher CTR (1% or above), try optimizing for impressions. In most cases this will result in lower cost-per-result.
2. Bidding price
Setting a bid price marks the highest amount of money you're willing to pay for a click, lead or a thousand impressions. But it does not mean it is the price you will eventually pay. LinkedIn uses the second-price auction principle where the winner pays as much as the second highest bidder, adding 1 cent.
3. Relevancy score and placement
Good news here! The winning bidder is not determined solely by the price s/he is willing to pay. Otherise, smaller advertisers wouldn't survive, which is not the case on LinkedIn. What also matters is how relevant your ad is for the user. The platform's algorithm predicts factors such as expected CTR, it analyses historical performance data and your landing page experience.
You compete with many other advertisers who have selected the same objective and target audience as yours. LinkedIn gives each advertiser a combined score of your bid and the relevancy score – their numbers are multiplied. So, in a real campaign scenario, it is perfectly possible for a bidder with lower bidding price but with a higher relevancy score to win the bid.
The price the winner pays for their bid is determined by the second-price auction. How does Linkedin calculate this?
The highest bidder's combined score is divided by the winner's relevancy score and 1 cent is added. This is how much the winner at the auction will pay at the end. LinkedIn explain it really carefully in this video.
Things to pay attention to when running an ad campaign
Set a bidding price that is competitive
Keep your CTR high
Always put efforts in offering relevant and engaging content to your audience
The Linked Blog is here to help you or your brand have the best possible LinkedIn presence, so feel free to contact us if you need help! See what else we can do for you here.