Some people will tell you that they are expensive, others will confirm they may be highly effective for your B2B company. Either way, LinkedIn Ads are becoming a must-have in the marketing mix for many businesses recently, so knowing how to use them is an essential skill for every B2B marketer.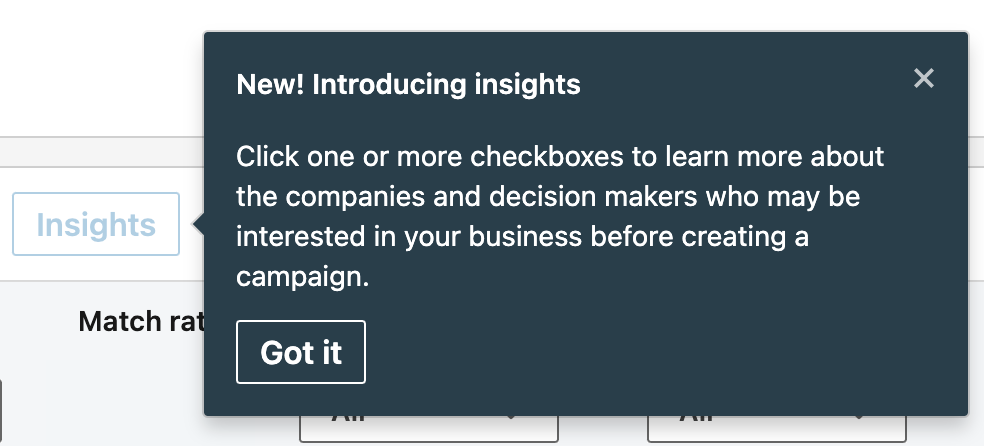 In addition to the easy-to-use 4-step creation process and precise targeting, LinkedIn is now including another heavy weapon in the arsenal – Audience Insights. As part of the recent refreshment of the Audience module in Campaign Manager (adding Saved audiences to the Matched ones), advertisers can now see detailed data about their Matched audiences – an anonymized group of users, gathered via the InsightTag, uploaded lists, or through engagement with company content on LinkedIn.
Facebook used to have such a feature but it was discontinued in 2021. Fortunately, the long-standing rivalry between the two platforms leads to this new gem on LinkedIn, and probably data lovers among B2B marketers would say 'Better late than never!'.
The difference between Saved and Matched Audiences
Before we start, just a quick reminder about what saved and matched audiences on LinkedIn are. When creating a LinkedIn Ad Campaign, you are asked to create your target audience using specific criteria (location, industry, job title, etc.) and then you can save it as a… yes, Saved Audience. On the contrary, Matched Audiences are automatically built and based on previous user behavior (e.g. website visits, company page engagement, LinkedIn event attendance, video ad views), uploaded contact or company lists, or as lookalikes of saved audiences. During the campaign creation process, you can create a saved audience using a matched one combined with additional criteria (we will get back to this later).
What data do we see in Audience Insights?
The information we see in Audience Insights is in fact similar to the data in the Website Demographics section of Campaign Manager – you see the number of LinkedIn members you can reach regarding location, function, seniority, industry, and even company name. Of course, we shouldn't forget that the Website Demographics feature displays information gathered from a specific website outside LinkedIn, and Audience Insights are combining it with data gathered from inside of the professional network.
Now, add half a dozen new in-depth information points showing content topic interests, member skills, years of experience, company growth rate (this one may not be precise), etc. They're divided into 4 sections – Content, Location, Member, and Company – where the first 100 results are included in most dashboards.
You can use this data to measure whether your messages actually reach your preferred audiences.
For example, if we look at the data from the Website Demographics section for the visitors of The Linked Blog in the last 90 days, we can see limited results for the aforenamed filters. Fast forward to Audience Insights (you can use the scroller below), and we see the number of audience members as part of the total count. You can see a slight difference in the percentage shown, which is due to the fact that the Website Demographics data is based on pageviews and Audience Insights are based on member count.
Until now, we could use Website Demographics as an addition to the data from Google Analytics or other traffic analytics tool. Now we can expand our analyses and focus on the elements that matter to the success of our LinkedIn and content marketing strategies. Here are a few
💡 Tips for effective use of the new LinkedIn Audience Insights:
1. Identify additional targeting criteria for your saved audiences
Now that we know the main characteristics of a specific audience that has visited our website or has interacted with our Linkedin Ads, we can rely on LinkedIn to create a lookalike audience. Or we can create our own saved audience based on selected filters (with these common characteristics) without any limitations. We have full control over the criteria and can easily exclude unwanted segments. Say, your audience is interested in Business Administration, Human Resources, and Working Environments, according to the Top 3 results in the Content section of Audience Analytics, you might consider adding these interests when creating your ad campaign.
2. Add some firmographic data to your Facebook and Google ad campaigns
The top-of-funnel communication in B2B is often neglected, but experienced marketers know how important awareness is. Which usually requires a mix of promotional activities, often including ads on Facebook and Google (of course, they are a good and relatively cheap addition to our lower-funnel efforts).
By creating a matched audience of people visiting a certain landing page where your campaigns are focused, you can learn much more about the people who actually interact with your ads – not only their location, age, and interests, but also industries, experience, functions, and not least – companies.
3. Single market overview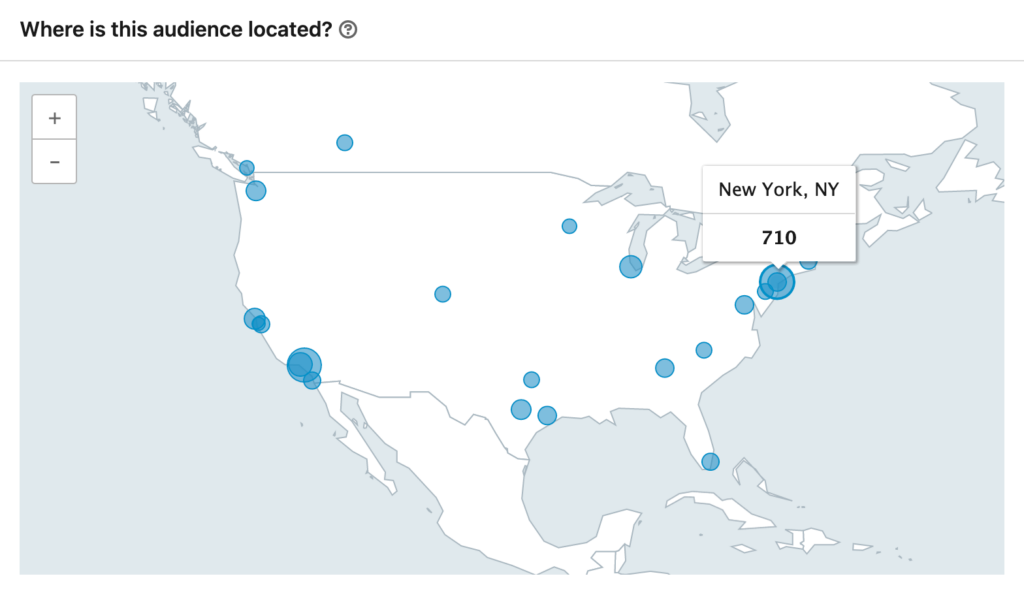 So far we could have a sneak peek over a limited amount of demographic information from the Forecasted Results widget in the "Set up Campaign" stage of the LinkedIn Ads creation process (Step 2). By selecting a single country or a city as a target location, we could learn a bit about the targeted audience – manually. We could also have a look at the list of cities in Website Demographics and try to calculate the total number of visits from a certain country (manually again).
This data is now visible in one place, as long as we zoom in to a single country in the Location section of Audience Insights.
Now we can see whether our potential audience is saturated in certain areas and maybe double down our efforts there. We can even combine this data with some insights from our CRM (e.g., for the number of orders from a specific city/region) in order to create a more effective remarketing campaign.
We're kind of pumped for this new feature! We love diving into data and using the insights in order to create more effective strategies and campaigns. How about you? What would you use the LinkedIn Audience Insights for – tell us in the comments!
The Linked Blog is here to help you or your brand have the best possible LinkedIn presence, so feel free to contact us if you need help! See what else we can do for you here.