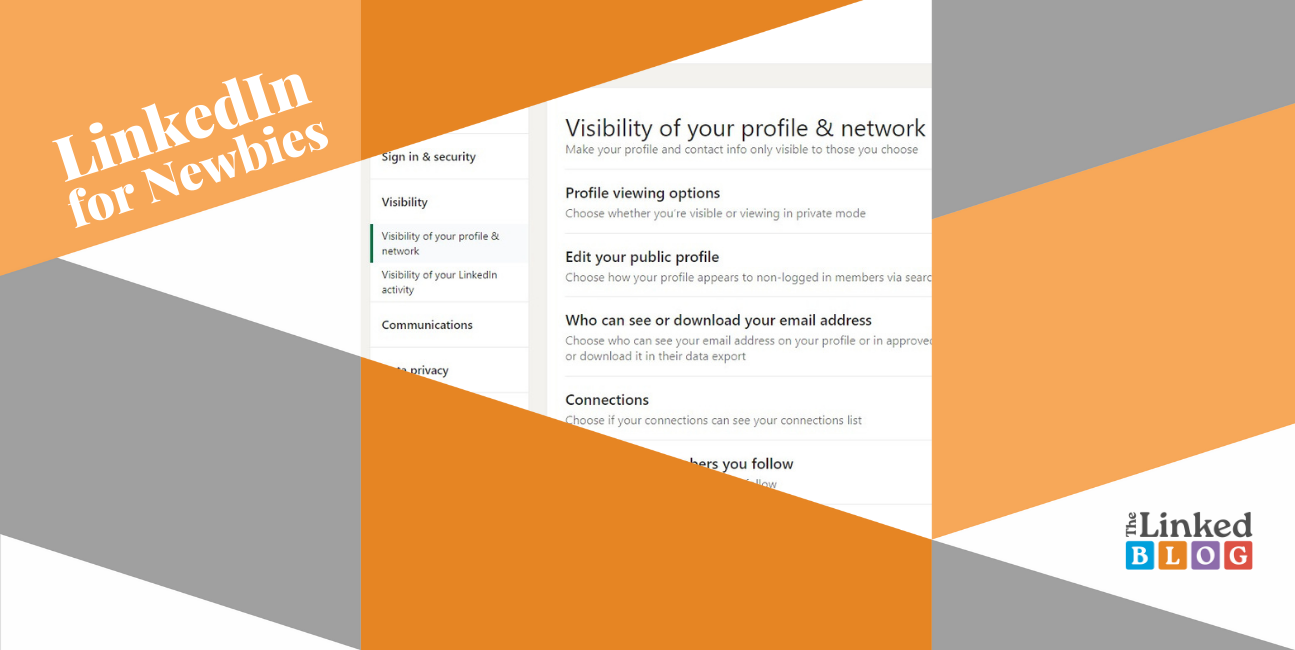 "You never get a second chance to make a first impression" and that includes your LinkedIn profile. This can be the first interaction that a potential partner or a recruiter may have with you. So let's make sure it looks perfect and it is visible by anyone online!
Did you know that your LinkedIn profile appears different to people on and off the platform?
Users can see your public profile even if they are not logged into LinkedIn. It is displayed as a simplified version of your LinkedIn profile. By default, all accounts on the professional network have public profiles generated for them automatically. You can manage your privacy settings and edit your profile's visibility. This way you have more control over the information you share with non-LinkedIn users.  You can edit the visibility of your basic information and all sections of your profile except "Skills" and your full activity. They aren't shown on your public profile regardless of whether you have allowed the publicity of your information or not. You can manage your privacy settings by following these steps:
First, open LinkedIn and click on Me in the top right corner to see the drop-down menu. Then click on Settings & Privacy. Go to Visibility on the left-hand side and click Change next to Edit your public profile in the Visibility of your profile and network section. On your right-hand side, you will see a series of categories that you can be made public or private. If the item is visible, it will be marked as Show and the button will be green. To turn it off, click on the button to hide it. The button will turn grey.
We recommend you keep your profile public so you can maximize your exposure and ability to build your network. In this article we give you 3 reasons why making your LinkedIn profile public is the better option.
You are visible and easy to find
Your public profile appears in searches on Google, Bing, Yahoo and other search engines. This is an essential benefit, especially if you want to be easily found by recruiters and potential partners. Although those who are hiring often get in touch with professionals on LinkedIn, they usually rely on professional sourcing services and other tools such as the search engines as an effective and affordable way to find potential candidates for open positions. Recruiters use Google very often to precise their search and discover people who fit their specific requirements.
If you hide your work experience, skills and location from your public profile, HR professionals would not be able to reach out to you. Even if you are not looking for a new job right now, being searchable by making these sections of your profile public would make it easier to be found by potential partners and customers.
When you create a strong profile and make it visible, more people with new opportunities can reach out to you looking for their next best partner – all because they already know that you might be a good fit.
You build connections both on and off LinkedIn
Information in public profiles is available to anyone, including people who are not registered on LinkedIn or are not signed in to their profile. If you give an interview or your name appears in an article and you attract somebody's attention, the first thing they would probably do is to search for you online. Your public profile in LinkedIn would appear on the first page of the results.
When your profile information is public and up-to-date, people who already know who you are can get to know you even better.
In addition to that, LinkedIn allows you to add a badge to your blog, online resume, or website, which links to your profile. By clicking on this icon interested users can easily see your professional resume and decide whether they want to contact you.
You boost business communications
Your public profile also appears on affiliate and approved third-party services, including Yahoo Mail, Samsung phones mail app and different Microsoft 365 applications. Users of Outlook, for example, can see a mini version of your LinkedIn profile as part of your profile card, which includes forms of contact and other relevant information. It appears when one of your email contacts clicks on your name or picture in Outlook or other Office Apps.
Detailed LinkedIn information is available only for users, who have connected their LinkedIn and Outlook accounts. However, even before that happens, you and your contacts may see some LinkedIn profile information about each other in Microsoft apps such as LinkedIn profile photo, name, company, and job title.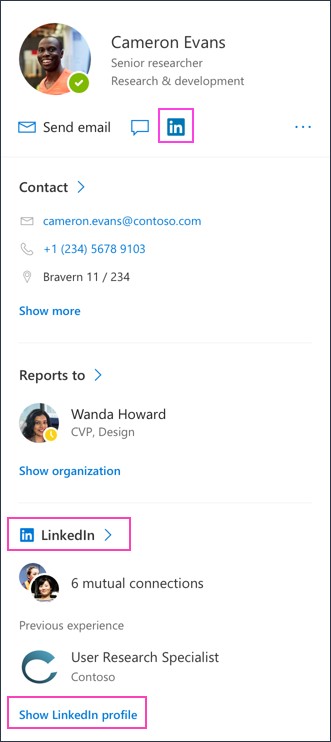 After you have connected your accounts, you can get updates about people you interact with. When communicating with someone in Outlook, you can see if you and the person share a common connection on LinkedIn. Your LinkedIn connections may also show up as suggested contacts in Outlook or LinkedIn may suggest that you connect to some of your Microsoft contacts.
Remember that your Microsoft account will only show information that you have made available on your LinkedIn profile according to your profile settings. Allowing your LinkedIn profile to be public would help you stand out because your email contacts could learn about you without having to go to a separate site and search for you manually. This feature is also beneficial because it allows you to revive your preexisting relationships. Besides that, it makes background research easy and quick.

Keep in mind that being visible is not enough to stand out and be noticed by the right people. You need to update your information regularly, be active by creating and sharing engaging content and present yourself as a trustworthy professional using the available features on the network in the right way.
As you build your LinkedIn network don't miss other LinkedIn for Newbies articles.
Follow us on LinkedIn for more tips and tricks on how to use the professional network!
See more about what we can do for you here.