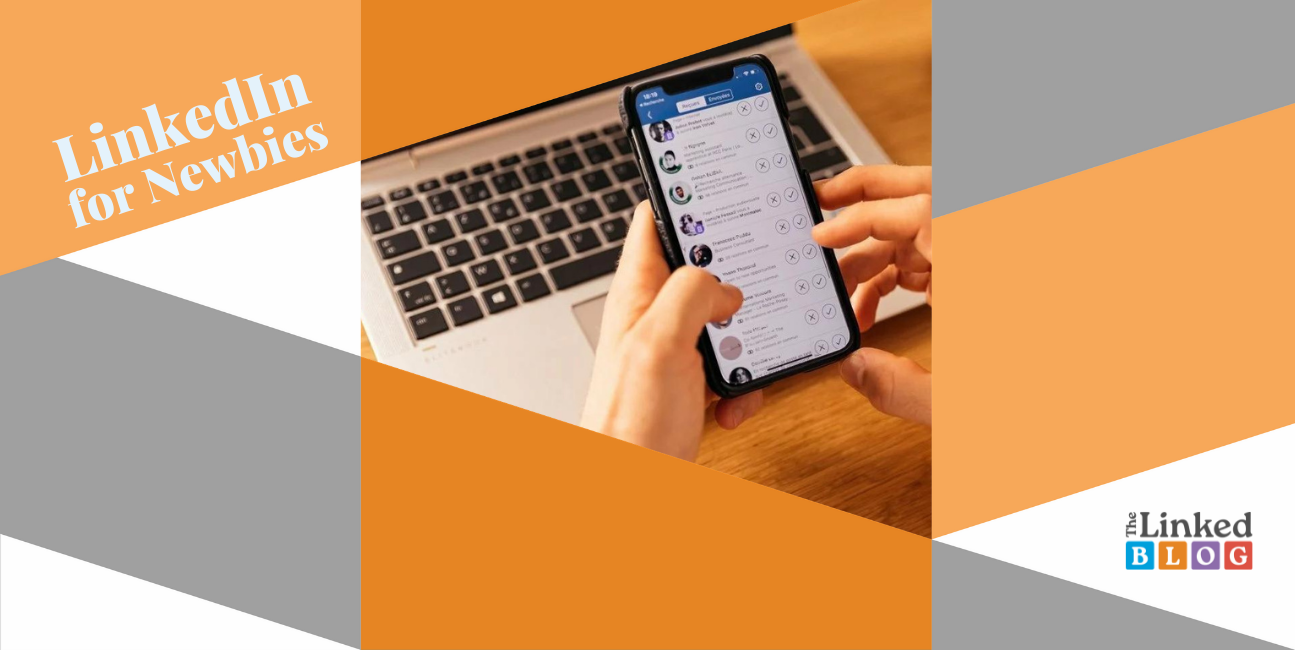 Many young professionals are joining LinkedIn on a daily basis. According to LinedIn's data the platform has over 760 million users worldwide and we expect а steady growth this year again.
As the professional network grows, the opportunities to be seized expand in parallel. LinkedIn is not a place to "just put your CV", but a platform to build and develop your brand as a young professional, an expert in your field of work, and a promising candidate for recruiters to keep an eye on.
In our training "Strong Start with LinkedIn" we help participants learn how to build an All-star profile, use the most important features of LinkedIn to build a quality network of contacts, develop their own strategy for the constant expansion. Inspired by the beneficial effect the training has, we decided to make a series of articles for The Linked Blog – to serve as a Guide for the Newbies on LinkedIn. The series will give you helpful advice and hopefully inspire you to maximize the benefits LinkedIn offers you.
The first article in this series tackles one of the biggest concerns for newbies. Faced with the question of content creation, many users struggle. Here we'll give you some ideas and advice. Let's start!
Introduce yourself – your work, your education
If you're a LinkedIn newbie, you need to start by introducing yourself. Your connections should learn about you and your work so far. Don't rely on the premise that everyone knows what your skills and talents are, remind people about them.
You can share your path as a young professional. Talk about your education and how you got where you are now. Take this opportunity to thank your mentors, your teachers and all the people who shaped you.
By going back and reflecting on your journey you can rekindle old connections with school and university colleagues, professors and teachers. Mentions of your university or school will help you connect with other alumni who probably work in your industry and will be interested in you.
Let your connections learn about you as a person
Make sure your connections know about your work ethic, your goals and your values. This is different from your company goals and culture that you share with your team. Make it personal and add your own touch.
You can do that by sharing causes you support, charities you fund, information about themes that personally interest you. Not only will this show that you're an active member of the community, but can bring you more opportunities to meet and collaborate with people with similar values. With time you'll build up a community with likeminded people to share ideas and work on projects that align with your mutual values, ensuring a larger impact. This also builds your brand as a responsible young professional who stands up for their beliefs and is willing to dedicate time to others.
Share company posts and your team members' accomplishments
This is essential. Еmployee advocacy can be beneficial both for you as an employee and for your company.
Sharing your company's posts is a great way to share more about your work, your current projects, to boost your company page and most importantly – to make sure people in your network associate you with this field of work. Don't forget to tag your company and other employees, use relevant hashtags.
Celebrate your teammates' accomplishments with posts to support them and your company. These posts show that you're a team player who gives credit when credit is due – a quality many professionals and recruiters look for.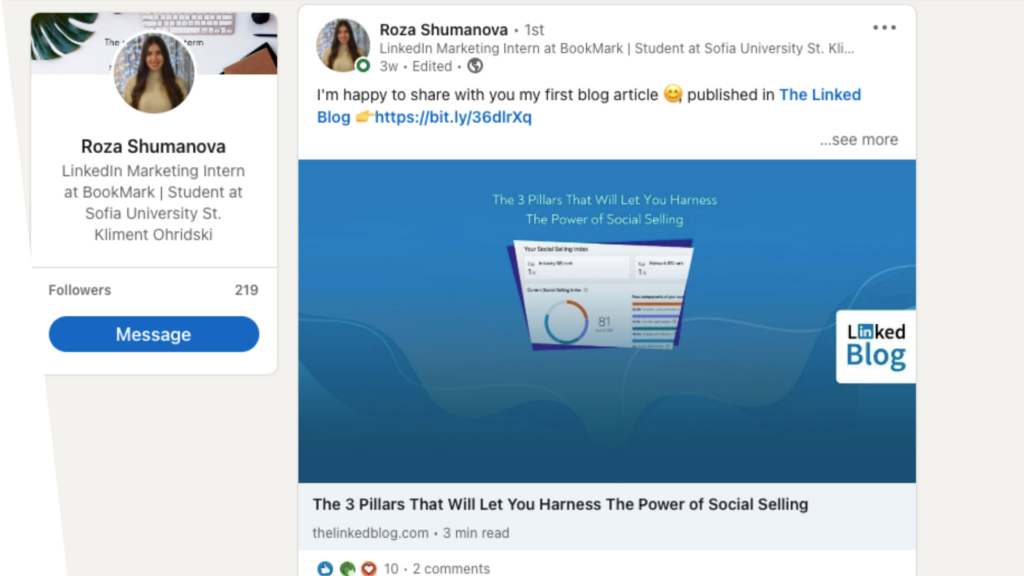 Share what inspires you to inspire others
Young professionals on LinkedIn often feel discouraged they may never rise to the level of high executives and managers. Share some motivational speeches, quotes, books or podcasts with your contacts. Tagging the authors will also benefit your profile. These posts can appeal to a larger audience and have an amazing reach.
You can share videos, links to articles, visualised quotes. Let your imagination run free.
White your own articles and videos
Take time to create content for your LinkedIn profile. Writing an article may seem like a daunting task but will pay off in time. These pieces can provide your audience with interesting and helpful information, motivating others to follow your profile and perceive you as a person who is willing to share knowledge.
You can repurpose this content by making a video or putting the highlights in a document.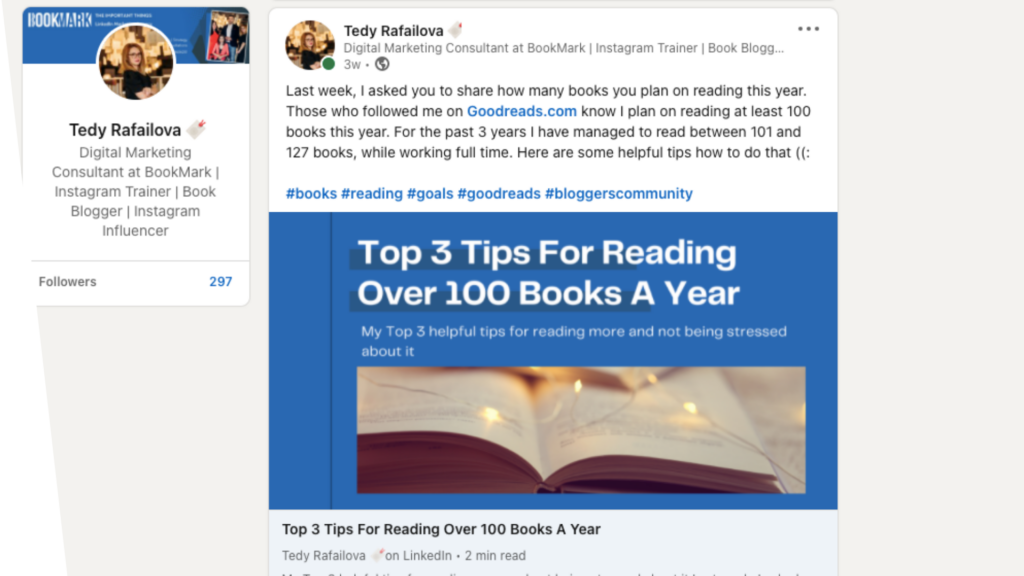 Share stories on LinkedIn
This relatively new feature on LinkedIn is often underestimated. You can share glimpses of your daily life, use stickers and mentions. Users see your LinkedIn Story in a special tab, so this is a constant reminder you're active. When you gain more connections and followers, swipe up links will also become available for you in LinkedIn Stories (you have to have at least 5,000 connections or followers and the Follow button as the primary action on your profile).
Don't forget to read our article '5 Ways to Benefit Your Profile Or Brand With LinkedIn Stories' and 'LinkedIn Stories: The 3 Deadly Sins You Should Avoid'.
Share articles about you and interviews
You can also add them to the Featured section in your profile. Don't be shy to share an occasion you're proud of. This is exactly the place to gush about your achievements, showing your growth as a professional.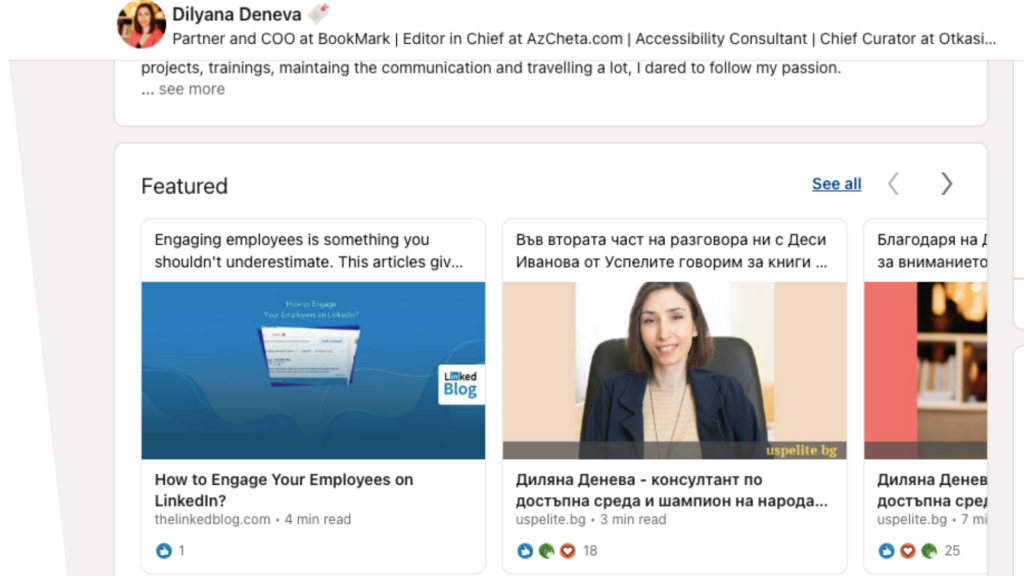 Create polls to learn more about your connections and ask them a question
Ask your connections a question and give them an opportunity to share their opinion. Polls are popular, entertaining and a great way to learn more about your connections. They can be related to your field of work or interests, created for fun or with the strategic goal of learning more about a certain question. A great way to determine what your followers want to see in your profile is to simply ask them.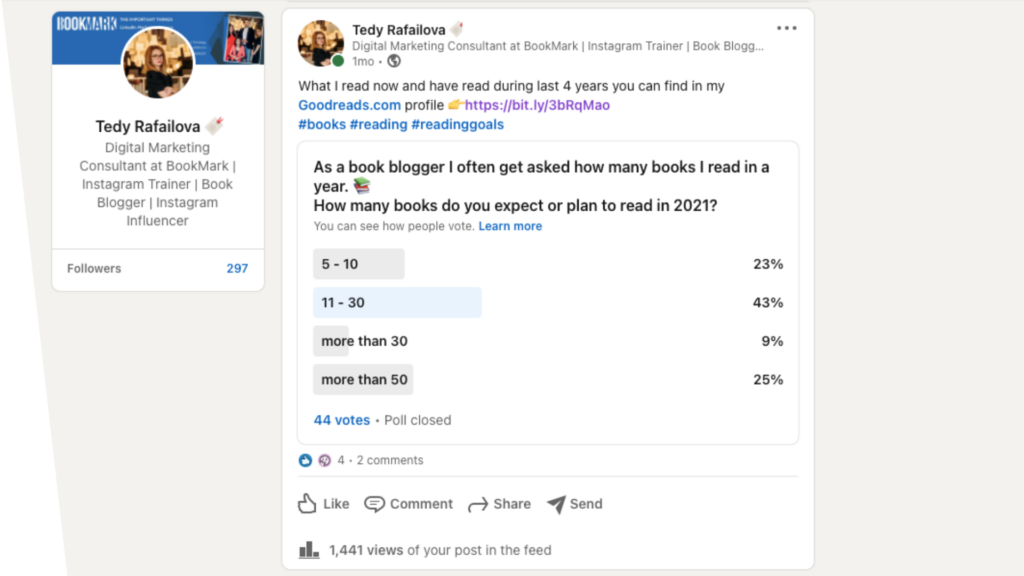 5 quick tips for creating your content
Use free tools like Canva to make sure your content is visually appealing.
Plan ahead with a content calendar. This way you won't be stressed about what and when to post.
Repurpose content you have already created. You can use the content you have already published after a while (e.g. 2 months) – in a different format.
Draw inspiration from others. It is important to keep up with trends but never forget to add your own touch. Just because you see a certain type of post does not mean you need to copy it. But if you like the format and you have something important to share – go for it.
Consult with LinkedIn trainers, follow LinkedIn Influencers and use the LinkedIn learning tools.
LinkedIn Learning is a learning platform with over 16,000+ online courses from experts organized in an extensive subscription library, that will help your creativity.
The Linked Blog is another place you can find helpful articles and our series about LinkedIn Newbies will be especially beneficial for you.
Follow us on LinkedIn for more tips and tricks on how to use the professional network!
See more about us what we can do for you here.