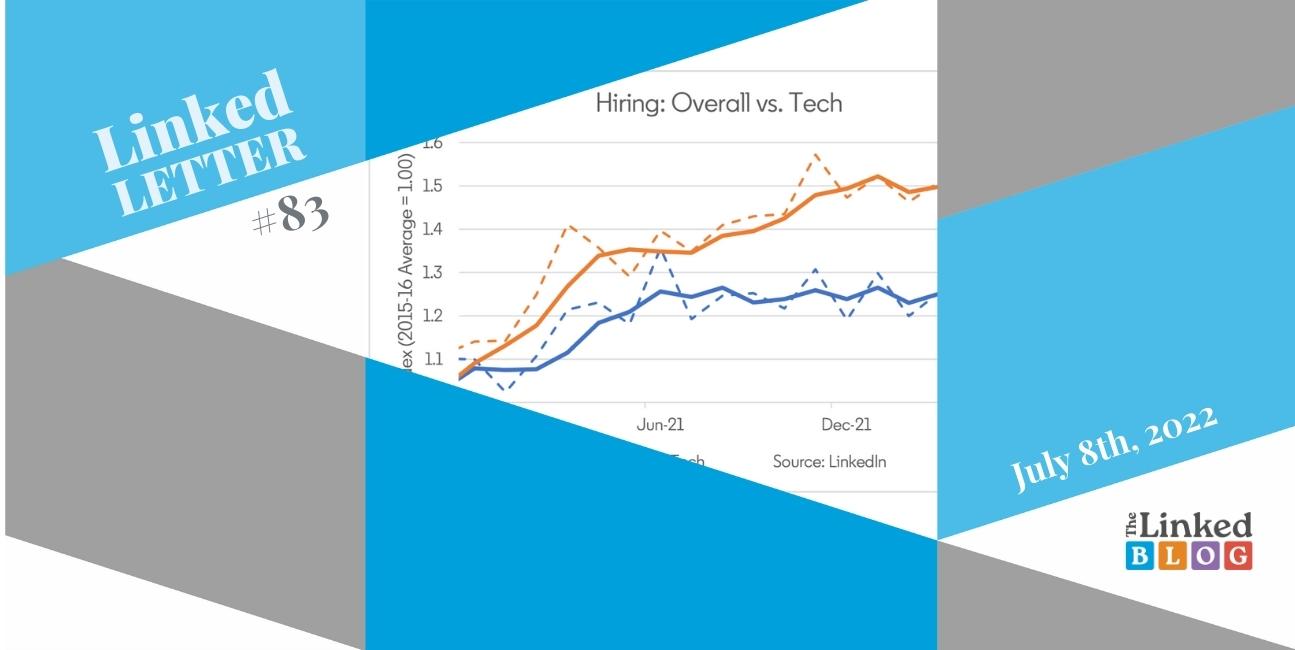 The new hiring rate updates for the month of June are out – let's observe them together. You'll also learn about the professional platform open-sourcing Feathr – the feature store built to simplify machine learning feature management and improve developer productivity, as well as why role models appear important for Euro 22's sponsorship campaign.
LinkedIn sees the hiring rate falling 11.9% annually in June. Guy Berger, a principal economist on LinkedIn, published the update ahead of LinkedIn's full July Workforce Report, which will come out in mid-July. Given historically high hiring last year and the beginning of 2022, there's good reason to expect hiring will edge down at least a little during the second half of this year, even if a recession is avoided. The LinkedIn hiring rate fell by 5.4% in the past month, the lowest level since December 2021. Having this in mind, the macro environment is much less favorable now than it was then. The economist also noted that the tech industry saw "outsized weakness" for the month, with its hiring rate falling 9.1% month over month on a seasonally adjusted basis, the lowest level for the sector since May 2021.
Even after the cooling we saw in June, the labor market is still quite hot. Hiring in June was 1.4% above its pre-COVID level for the overall economy; for the tech industry, it's 8.6% higher than pre-COVID levels,

Guy Berger says
LinkedIn Engineering presented Feathr – a feature store for productive machine learning. The new feature is a data management layer for machine learning applications. It simplifies feature management and usage in production and helps engineers develop machine learning products by reducing the common feature generation, maintenance, and observability steps. With its simple programming model, the abstraction layer provides a namespace for defining features, computes them for training and inference purposes but also makes them discoverable by other machine learning developers. This high-level architecture is like the producer-consumer architecture where producers can generate and register machine learning features, and consumers use those features in training. 
LinkedIn promotes the importance of role models for the Euro 22 sponsorship campaign. As one of the UEFA Women's Euro 2022 tournament's sponsors, the social networking site's Euro 22 campaign highlights the importance of role models in sports, as well as in life. #FollowInHerFootsteps sees LinkedIn teaming up with Carol Thomas BEN, the first captain to lead England to a Women's Euro back in 1984, and who embarks on a historical walk from where it all began in Crewe to where the 2022 tournament kicks off at Old Trafford in Manchester. They also state that 76% of female professionals say relatable role models need to be more visible.
We have challenged Carol Thomas to a 30-mile walk through history, from where it all started, to where it kicks off this July – in Manchester. Follow Carol on her journey to highlight the importance of female role models and see how far the women's game has come.
The Linked Blog is here to help you or your brand have the best possible LinkedIn presence, so feel free to contact us if you need help! See what else we can do for you here.