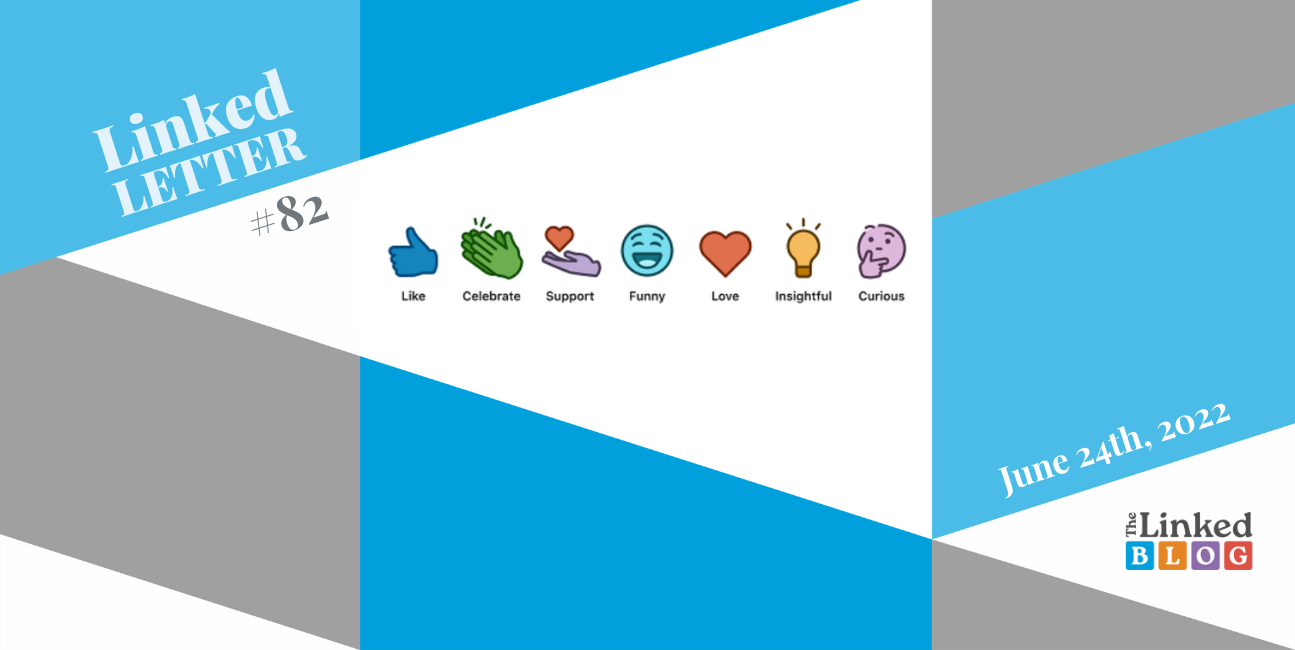 New 'funny' emoji, simplified repost option and generations changing the advertising industry – you can learn all about these in our LinkedLetter. Let's see whether humour suits the proffesional network, how can we support other users' content and why retaining Gen Z talent is not straightforward.
The funny reaction is now on LinkedIn. In a previous LinkedLetter we told you about this upcoming change and now it is a fact. Some LinkedIn users are already seeing this new alert in the app. It was added to the six other emoji response options on LinkedIn posts. As explained there, it "expresses that the post made you laugh, felt humorous, or offered light-hearted fun in a professional context".
You could use the new emoji not just to react to annoying memes on the network, but mostly to support proffesional content with some notes of humour. It's great that we have more options and we can't wait to see whether this reaction would be frequently used and increase the number of "entertaining" posts.
LinkedIn is adding a new, simplified 'Repost' option. Soon you will be able to see it when you tap on the 'Share' prompt, which will enable you to share without adding a comment (currently your only option). Up untill now you could reshare existing public posts from other members or LinkedIn Pages and add your own ideas or questions to share with your network. Andrei Santalo, explained the benefits of the new feature in his post about new uptades relevant to creators, also including the upcoming comments on events.
Now, if someone decides to repost one of your posts without commentary, it will get shared to their network, but any comments and reactions stemming from that repost will be counted towards your original post. This change will first appear on desktop, with the experience rolling out more widely over the next few weeks. We encourage you to create your own content, but the new feature is a great way to add more visibility to an update from your company page or other user's post, that your find insightful.
LinkedIn CEO reveals the generational data behind the Great Reshuffle. Ryan Roslansky has issued a word of warning to employers grappling with an intensifying battle for talent: 'Motive and inspire Gen Z, or risk being left behind.' He was addressing an audience of advertising and marketing professionals in a packed conference hall in Cannes, France, where he discussed what LinkedIn data revealed about a shifting generational attitude to the workplace.
He addressed the talent migration taking place in the ad industry, noting that the "Great Reshuffle" has played out differently among generations: Baby boomers have been the most loyal to their roles, before and during the pandemic, while Generation X drifted away from that path as Covid restrictions were eased, and millennials did the same "at record pace." However, Generation Z were the most active movers pre-pandemic, as well as the biggest movers in its early and later stages:
Motivating and inspiring this generation is going to be critical to the future of the ad industry.
See the video below to learn more about the takeaways Ryan Roslansky pointed out during his speech:

The Linked Blog is here to help you or your brand have the best possible LinkedIn presence, so feel free to contact us if you need help! See what else we can do for you here.