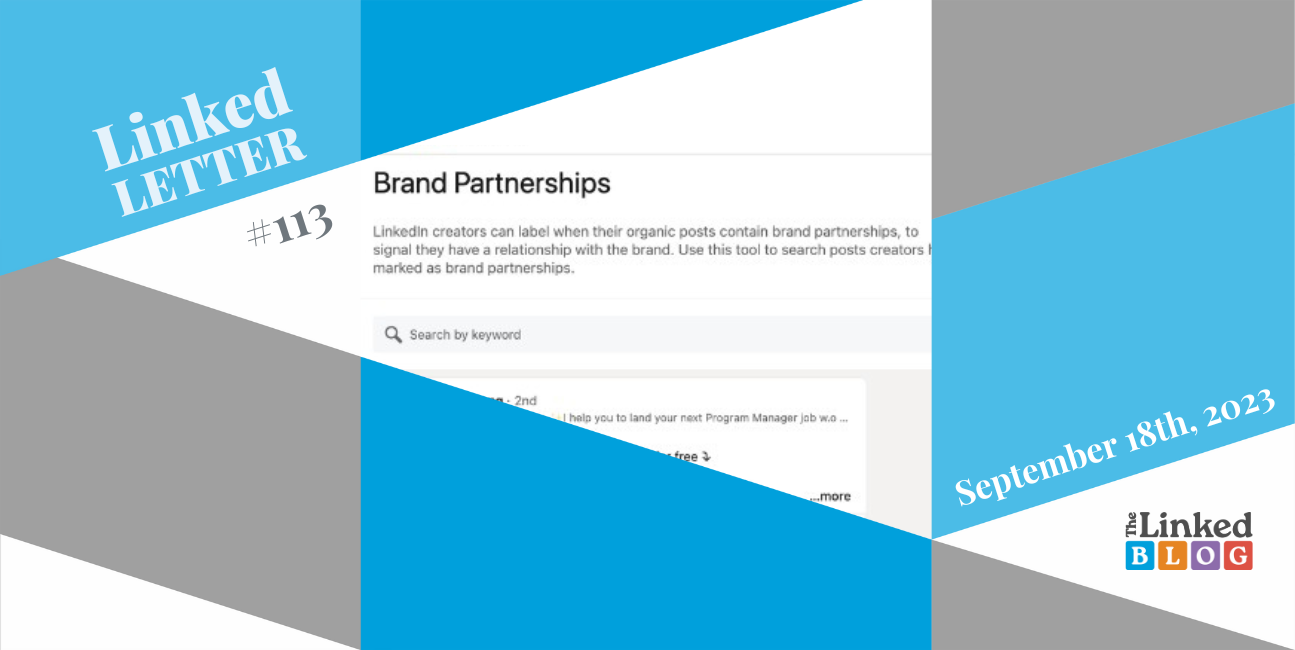 Explore the new edition of our LinkedLetter – the place where we keep you up to date with the latest information about LinkedIn! Recent news has come and we can't wait to share them with you. This time we are going to spill the beans about the new accreditation on several key add metrics, given to LinkedIn by MRC, a new Generative AI to Sales Navigator, a brand new branded content library and last, but not least – some free AI courses to upskill your knowledge. So keep on reading! 
LinkedIn's recent achievement: accreditation from the Media Ratings Council (MRC) for several of its display ad metrics. This accreditation signifies a significant step in LinkedIn's commitment to maintaining industry standards of quality and accuracy in ad measurement. Verified by the MRC after a voluntary audit, LinkedIn's measurement and reporting systems have been recognized for their adherence to ethical practices in desktop, mobile web, and mobile in-app environments. This recognition provides added assurance for LinkedIn marketers, as they can trust that their ad performance metrics align with industry standards, enhancing transparency and credibility. LinkedIn's dedication to securing accreditation for all its ad offerings in the future reflects its ongoing commitment to delivering trustworthy B2B measurement solutions.
LinkedIn is pushing the boundaries of productivity for sales professionals with the introduction of two groundbreaking generative AI features in Sales Navigator. The AI-assisted search feature brings a conversational approach to lead prospecting, allowing sellers to effortlessly locate potential leads among LinkedIn's vast user base. By interpreting natural language search prompts, this feature streamlines the process by automatically selecting the most relevant search filters, making lead identification a breeze. Furthermore, it provides valuable suggestions for search prompts that can unveil warm connections, enhancing networking opportunities.
Complementing this, Account IQ leverages generative AI to compile crucial data from various sources into concise, easily digestible summaries right within Sales Navigator. Sales professionals gain a comprehensive view of their target accounts, incorporating insights from public filings, financial reports, and LinkedIn's unique workforce trends. Although currently in a limited pilot phase, these innovative features signify LinkedIn's commitment to empowering sales teams with cutting-edge tools for efficient and effective lead prospecting and account research. Read more here.
LinkedIn is further enhancing its branded content offerings by introducing a new search feature for branded content partnerships, allowing users to explore affiliate marketing campaigns that have utilized the new branded content tags within the app. This development enables users to easily access insights into how brands are leveraging influencer partnerships on the platform, offering a valuable source of competitive intelligence and increased transparency regarding paid promotions. This update is in line with LinkedIn's obligations under the EU Digital Services Act (DSA), which mandates social platforms to provide a searchable database of branded content partnerships. As sharing of original content on the platform surged by 41% year-over-year in 2022, LinkedIn's emphasis on creators and expanded pathways for users to build their presence may lead to a surge in influencer deals within the app. This new tool could prove invaluable for marketers seeking to optimize their LinkedIn marketing strategies and capitalize on the platform's evolving landscape. Read more here.

LinkedIn's recent research underscores the evolving landscape of AI in India's professional sphere, with over 8 in 10 professionals anticipating significant changes to their jobs within the next year due to AI innovations. While 60% express feeling overwhelmed and 39% worry about keeping pace with AI developments, a remarkable 71% express a keen interest in learning more about AI, even if they're unsure where to start. Notably, 68% of the workforce already employs generative AI in their roles, with millennials (54%) and Gen Z (46%) professionals leading the charge. LinkedIn's response to this growing interest is to offer free access to popular AI courses until December 15, 2023, encompassing a range of topics to help professionals upskill in AI-related domains.
The Linked Blog is here to help you or your brand have the best possible LinkedIn presence, so feel free to contact us if you need help! See what else we can do for you here.