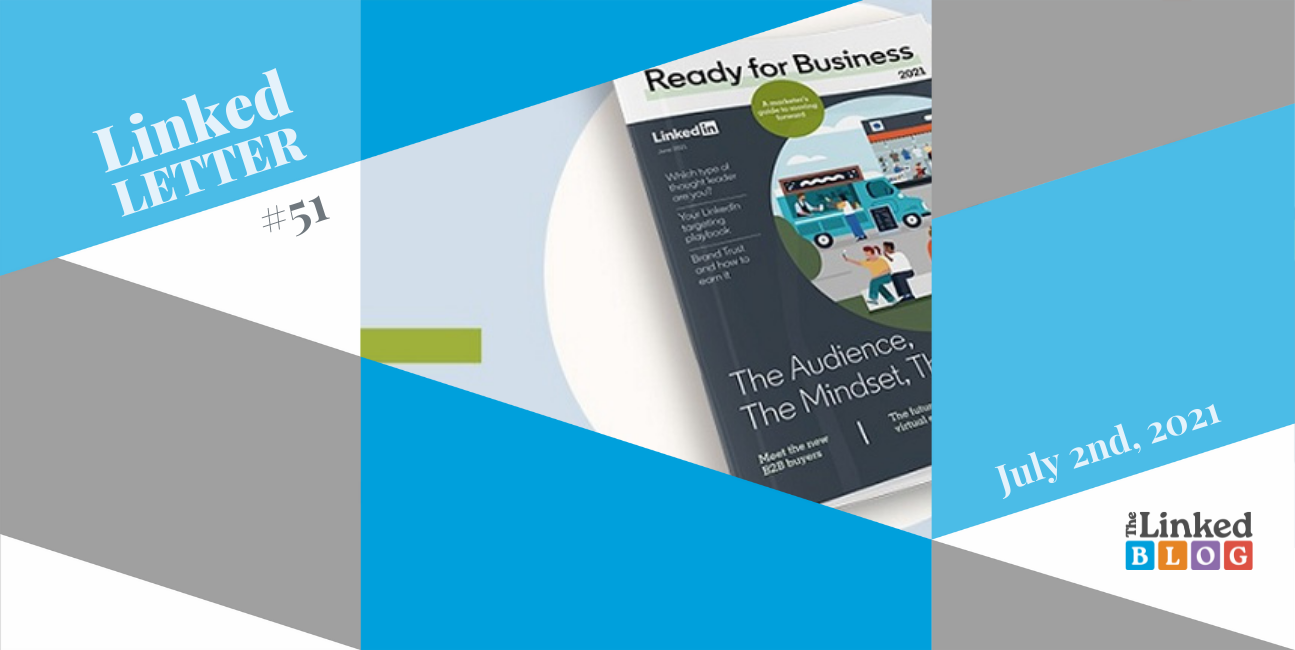 Time for brain food – inspiring ideas to revise and improve your business after the pandemic, news about the scraped LinkedIn's data, and a new digital magazine! That is waiting for you in our weekly digest – LinkedLetter #51.
On 27th June LinkedIn Corporate Communications posted an update on the report of scraped data from April 2021. After an investigation process, an assumption has been made that no LinkedIn private member data were publicly exposed and there is no LinkedIn data breach. In order to be clear that any misuse of LinkedIn members' data violates the platform's terms of service, LinkedIn will hold whoever accountable.
Move your business forward with the new digital magazine – "Ready for Business 2021"! The 50-page magazine is packed with helpful tips, key insights, and interviews with experts that can boost your inspiration to improve your post-COVID-19 business strategy. We all know that sometimes planning ad campaigns can easily put us under pressure. That's why LinkedIn has developed and shared in the magazine a template for planning effective marketing campaigns (6-9 p.)
For some inspiring campaigns go on pages 12 and 13 and read the case studies from Upwork, Cisco, Novartis, and Uberflip. Then we want you to ask yourself this question: Do I still think that B2B Marketing is boring? Our point of view is that B2B marketing can be really fascinating and brilliant. If you do not believe it, just stop treating B2B as something inherently boring.
As we have informed you in our previous LinkedLetter, on 27th June LinkedIn published its last blog post on "The Changing Marketing Jobs Landscape" series which is paying attention to the state of gender and racial diversity in marketing today. You can read the first, second, and third posts and get key insights into the marketing world.
LinkedIn data shows that in North America (NAMER) women's representation in the marketing field is increasing and now it is 60%. Moreover, 53% of director-level or higher positions and 59% of manager-level positions are held by women. Unfortunately: "Women of color are severely underrepresented in leadership roles", stated McKinsey & Company Annual Women in the Workplace Study.
What you can also see on the infographic is a list of industries in Marketing Roles with the greatest gender balance in NAMER. Women who are working in the fields of Real Estate and Wellness & Fitness have the strongest representation. The data shown is based on individuals and their chosen pronouns because LinkedIn knows that the gender identity isn't binary and it tries to share more inclusive gender data. For more insights take a deeper look at the blog article here.
LinkedIn signed up to the European Union's voluntary code of conduct to declare against illegal hate speech online. The professional platform has joined its parent company Microsoft, together with Facebook, and Google's YouTube.
As more people come to LinkedIn, we will continue to invest in our content review teams and our platform to help stop and prevent abuse, taking action on those who misuse the platform to help keep members safe," Kate O'Sullivan, the company's EU director for public policy, said in a blog post.
The Linked Blog team is here to help you or your brand have the best possible LinkedIn presence, so feel free to contact us if you need help!
See what else we can do for you here.