May brings some news we all have been waiting for and new features that we didn't even realize we need. Why and how can we see fewer polls, what's new in audio events and what are the new benefits for service providers? Let's explore together!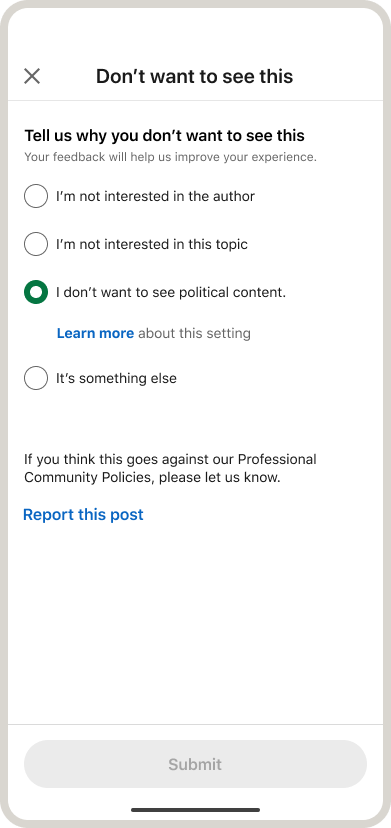 LinkedIn is changing the feed algorithm to provide users with better content and spark discussion. Reaching record levels of user engagement, the professional network continues to help us have the most productive and engaging experience. A new update in the feed algorithm is intended to create a more personalized and relevant experience while generating meaningful conversations and engagement between users.

The new algorithm includes more options for members to signal what they aren't interested in. If you see content on your Feed that isn't relevant or interesting to you, you can choose the "I don't want to see this" option on the individual post. In addition to that, LinkedIn will show you more targeted activity from your network, and where you'll be more likely to join the conversation, too. In addition to that, the professional network is testing a way to give members the option to reduce political content in their feed.

LinkedIn is also trying to keep the feed authentic and valuable. Some of the new updates are addressing feedback about what users want to see less of their feed. For example, we won't see that many polls. The platform will show us only those that are helpful and relevant. That means fewer polls from people we don't know and more from those we're more likely to engage with from our network. Other improvements are reducing low-quality content and keeping conversations safe. Learn more about the new updates in the article by Linda Leung, Director of Product Management at LinkedIn.
Real-time captions to the LinkedIn audio events experience are launched. Up until now, when members joined an audio event on LinkedIn, they could only listen to it. By adding real-time captions audio events will become more accessible and inclusive for members with hearing impairments. Captions (currently available in English) will ensure that every LinkedIn member is able to join audio events. Other accessibility benefit includes allowing members to "listen" in places where playing audio is otherwise not possible or allowed, and better facilitating understanding of the content.

To enable captions when you join an Audio Event, click on the three dots in the top right-hand corner of the Audio Event and tap on Turn on captions (Beta). Members have the ability to turn captions on or off. This feature has been tested internally for a few months and it has been launched with beta participants.
Service providers can now share their reviews to reap the benefits of word-of-mouth. LinkedIn is continuously investing in helping the 4 million service providers on the professional network connect more efficiently with potential clients. Searching and requesting services have been increasing in the last two years, especially in categories such as business and executive coaching, marketing, design, and software development.

To help service providers reach new people, LinkedIn recently launched the ability for service providers to share their reviews with their community, which would help them grow their business. By sharing reviews in their feed, service providers can multiply the impact of a single review and leverage the benefits of word-of-mouth recommendations across their community. Tom Cohen, Chief Product Officer at LinkedIn, outlined the positive effects of the new feature in his recent article.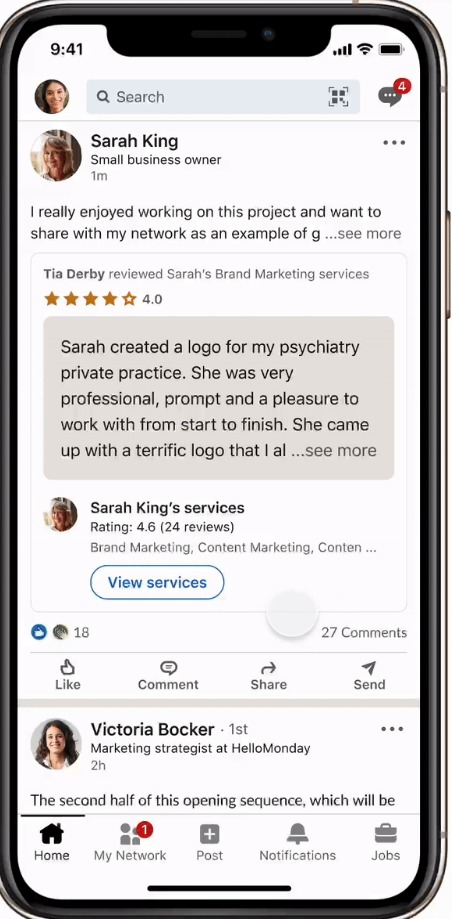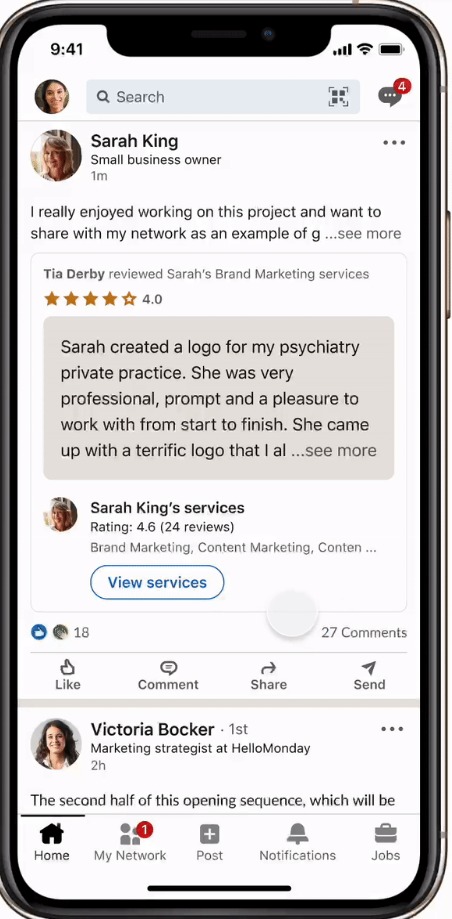 Since we launched it, we've seen that members find those reviews very relevant and engaging in their feeds. In addition, service providers can showcase examples of their work through our new the Featured section on their page.

Tomer Cohen
The Linked Blog is here to help you or your brand have the best possible LinkedIn presence, so feel free to contact us if you need help! See what else we can do for you here.