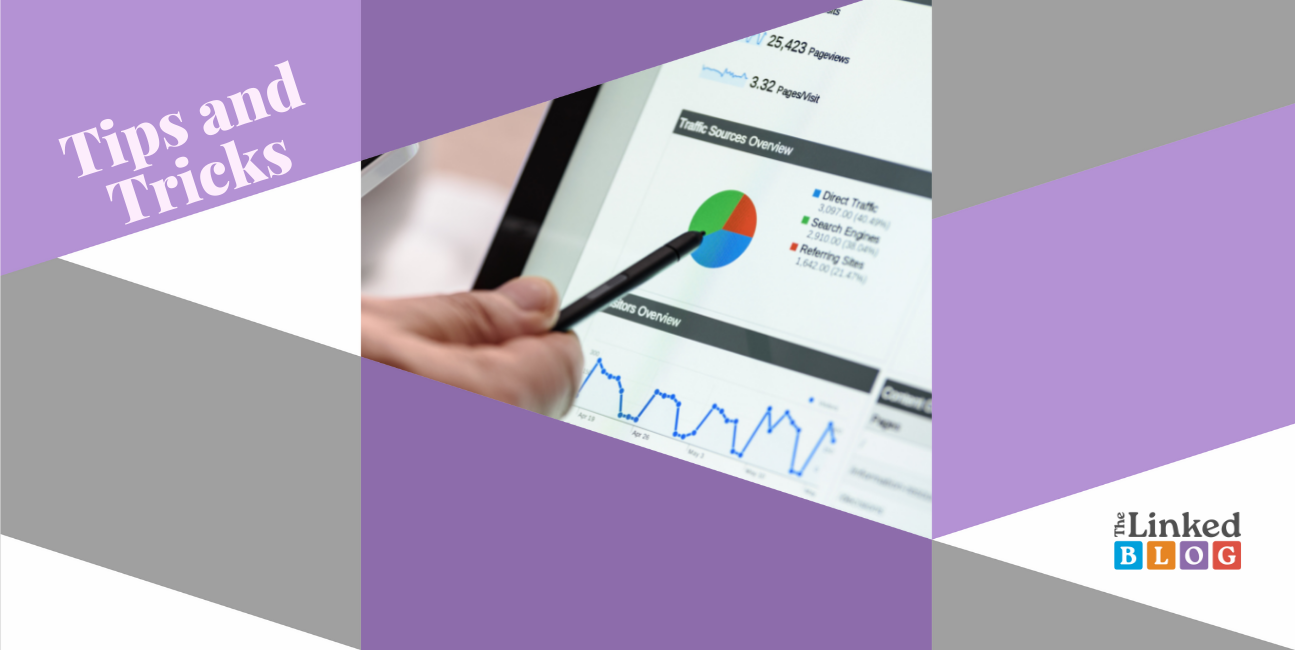 Have you ever used the tracking UTM parameters? If not, we are here to inform you what you're missing out on and why you should start tracking the progress of your LinkedIn channels ASAP.
Starting with some history: UTM, or Urchin Tracking Module parameters, are text codes you can add to the links of your social media posts to track essential metrics about your website visitors, sources of traffic, and conversion. It represents a simple code that can be attached to any URL to generate Google Analytics data. Urchin was originally a web analytics software, developed by Urchin Software Corporation and designed to track the behavior of website visitors. Google bought it in 2005 and created Google Analytics, which became the most popular web data analytics tool globally. The UTM feature is not a standalone social media analytics tool itself, but it comes as essential in helping you measure your online presence, even on LinkedIn. (Well, especially on LinkedIn where there are still not enough analytics available) 
Tracking UTM parameters comes specifically useful for social media managers but it does not require any specific expert knowledge. It is a convenient way to observe how much web traffic and conversions your social media channels and campaigns generate. If you want to take it to the next level, using this feature will also give you more precise data regarding measuring ROI rather than just reports on social media performance in terms of engagement, followers, etc. They work with analytics programs to give you a detailed picture of your LinkedIn marketing results.
By using these parameters, you can distinguish every source when you send out a link and track it, e.g. traffic coming from links shared on a company page vs. personal profiles of key members of the management board.
Why You Need Social Media Analytics Tools to measure your LinkedIn marketing efforts
Social media analytics tools help you create performance reports to find out what's working well for you and what is definitely not. They should also provide the specific data you need to assess your social media marketing strategy on both macro and micro levels. There is some data on LinkedIn and its Campaign Manager, but the in-depth insights are available on Google Analytics or other website traffic and behaviour measurement tool you're using.
Tracking them can help you answer questions like:
What are my top-performing channels on LinkedIn for the last year?

Which LinkedIn channel sent more leads to our product launch?

What types of updates work best and generate interest in our products?
And many more.
Choosing the right UTMs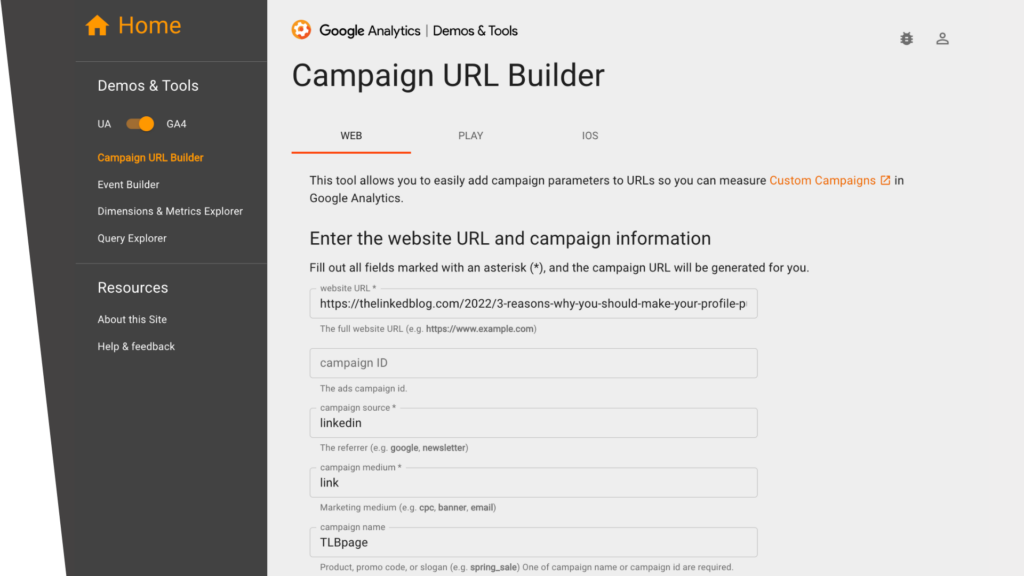 Put simply, UTM parameters are short pieces of code appended to the links you share on social media, everything that comes after the question mark. But which UTMs should we use?
There are five different UTM parameters. You should use the first three in all UTM tracking links, as this is required by Google's Campaign URL Builder. The last two are optional and are mostly used for tracking paid campaigns.
Campaign source
This type indicates the social network, search engine, newsletter, or other specific sources that are driving the traffic. Putting LinkedIn here should be enough.
Campaign medium
This one tracks the type of channel driving the traffic: organic social, paid social, email, and others. Our recommendation is to use link when you create an organic update or cpc when you track different LinkedIn ads.
Campaign name
You should name each campaign you manage so you can more easily keep track of it. This could be the promotion name or a code that identifies the specific promotion, an influencer name, or a tagline, etc.
Pro Tip: If you want to diversify traffic to different pages of your website from employees, create a unique campaign name for all of them (JohnDoeProfile, JaneDoeProfile, CompanyPage, BrandNameShowcase, etc.).
Campaign term
This UTM parameter lets you track paid keywords or key phrases.
Campaign content
The campaign content tag allows you to track different ads within a campaign. When you're running LinkedIn Ads, this UTM will help you differentiate all the images in ads you use in a single campaign.
How To Use UTM Parameters
Now that you know more about UTM parameters and you can add them to your social posts, you could use UTM tracking to analyze your LinkedIn marketing results in just two steps.
Step 1: Gather data on your UTM campaigns
First, log in to Google Analytics. In the Reports tab on the lefthand side, go to Acquisition, then Campaigns.
Scroll down to see a list of all the campaigns you have created trackable URLs for, with traffic numbers, behaviour data, and conversion rates.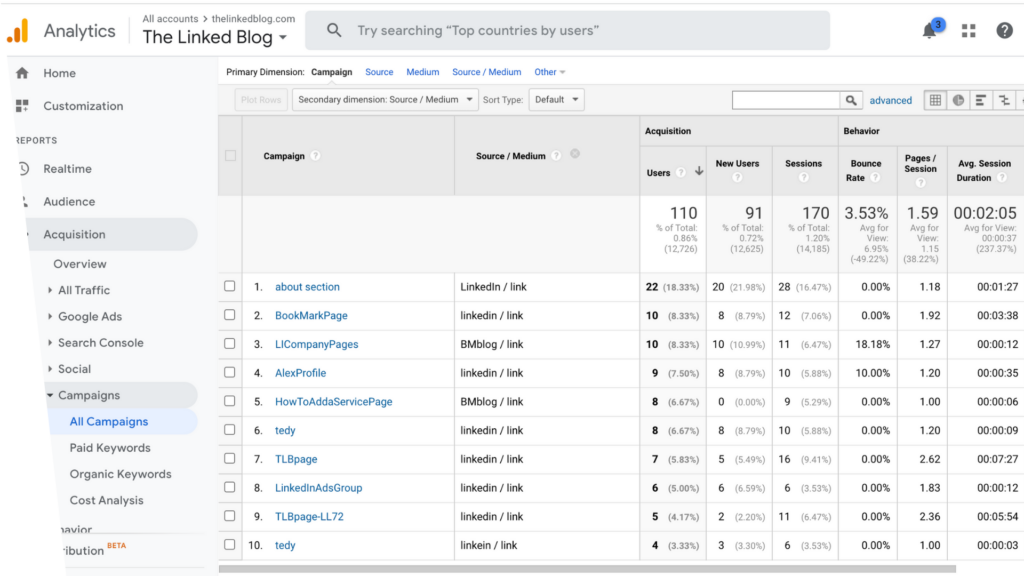 Step 2: Analyze the data your UTM parameters provide
Now that you have gathered some data, you need to summarize and analyze it. This is a crucial step in order to improve the success of your efforts. Add a Secondary Dimension (e.g. Source/Medium) in order to start another vertical for your analysis. You can also search for a specific name of a parameter in order to compare channels and updates.
Furthermore, on Google Analytics you can click Export in the top menu to download your UTM data as a PDF, Google Sheets, or other formats. Then, you can import the information into your social media report for analysis. 
Remember that you should aim for more than simply random numbers. Work with your team to make sure you track meaningful metrics for your social media content and your LinkedIn ads.
The Linked Blog is here to help you or your brand have the best possible LinkedIn presence, so feel free to contact us if you need help! See what else we can do for you here.