LinkedIn ranks first for the fifth year for the most valuable social currency – trust, according to eMarketer's Digital Trust Benchmark Report 2021. 1,730 US social media users took part in the annual survey. Factors that most affect their trust in 9 social platforms (Facebook, Instagram, LinkedIn, Pinterest, Reddit, Snapchat, TikTok, Twitter, and YouTube) and how those factors impact their decision to engage with ads or sponsored content there were analysed.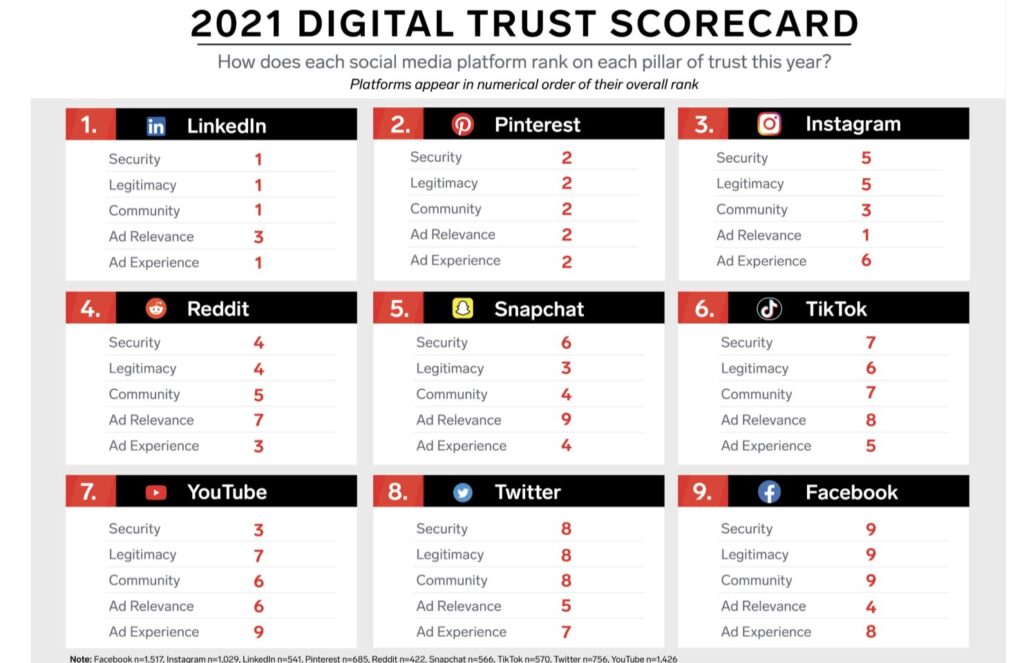 Apparently, the professional network has been granted the first place for four of the five studied pillars of digital trust – Security, Legitimacy, Community, and Ad Experience. What could be improved, according to the study results, is the trust in Ad Relevance – ranked third.
According to the researchers, 52% of US adult social media users think that whether a platform protects their privacy and data is extremely impactful on their decision to interact with the ads or sponsored content they see there. Therefore, LinkedIn deserves admiration for handling so well Security.
Daniel Roth, Editor in Chief and VP at LinkedIn, shared the great news in his profile, giving kudos to the whole team, whose joint efforts stand behind the recognition. He particularly highlighted the top spot on the Community pillar, quoting eMarketer:
Fostering meaningful connections among users and making them feel safe engaging with an online community is the third most significant factor affecting user trust. A positive sense of community can encourage social sharing and engagement and spark conversation between users and brands.
You can find the full report here.
The Linked Blog is here to help you or your brand have the best possible LinkedIn presence, so feel free to contact us if you need help! See what else we can do for you here.