September is the perfect time to be creative and work even harder and it appears LinkedIn is thinking the same way. Our favorite network has prepared a lot of new tools and options, that will help us make the best of our activity there! 
New updates are coming to LinkedIn's advertising platform. Thе new format Document Ads allows you to upload and sponsor documents such as white papers and case studies and it will enable you to drive engagement and leads directly within the LinkedIn feed. Click-to-message ads will be another format that drives members from the feed to the inbox through a Start chat call to action. Conversation Starter Ads and Ads within Discovery Tab will also help you start a conversation. Learn more about the new formats and placements in the video below.
New LinkedIn updates put a focus on DEI efforts. The professional network is rolling out new tools for LinkedIn Recruiter and LinkedIn Learning to help recruiters diversify the talent pool. According to HR Morning, these tools will ensure that the talent search has balanced gender representation and improved education on DEI (diverse, equitable, and inclusive) efforts. 
LinkedIn Recruiter is rolling out a new tool called "Diversity Nudges" to help ensure that there is gender diversity in the talent pool. It will give you a nudge when your talent search has unbalanced gender representation by showing you the male-to-female ratio, as well as recommendations of filters – such as Locations, Skills, and Companies – to help make your talent pool more balanced.
LinkedIn is also adding a dedicated spot for companies to highlight their top commitments. Now they will be able to add a dedicated section to their organization's page that highlights the causes they care about such as DEI, environmental sustainability, social impact, and work-life balance. LinkedIn Learning is also rolling out new free learning paths to help increase diversity, equity and inclusion. A path for creating more equitable and inclusive hiring practices is also included.
LinkedIn rolls out an option to pin comments in reply chains. You can now pin a comment within the LinkedIn post reply section, which could help to highlight the best responses and spark more engagement with your updates. could be a good way to guide the related conversation, or to simply acknowledge users that have engaged with your post in a creative or thoughtful way.
You can pin specific replies as well, which opens up new considerations for maximizing LinkedIn engagement and interacting with your network in the app. The option to pin comments is now being rolled out to all users, while you can unpin a comment via the three dots menu on a pinned response.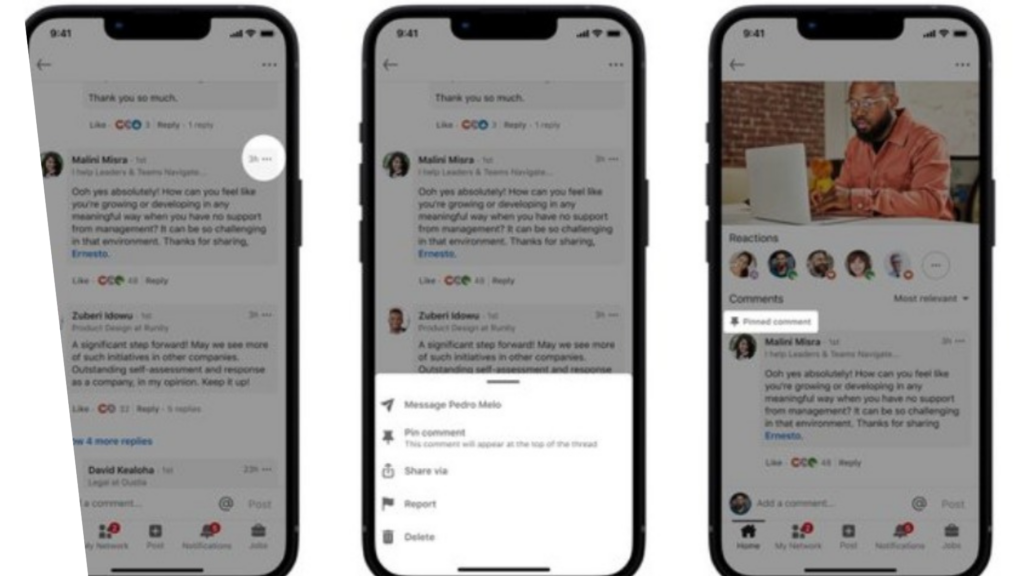 LinkedIn might be working on a native post-scheduling option, Social Media Today informs, quoting the app researcher Nima Owji. The professional network is looking to add a new option to help manage your platform presence, with a native, in-stream scheduling option. It will be built into the post composer flow, with a new clock icon added to the bottom right of the window.
You can already schedule LinkedIn posts in most third-party social media management apps, but native scheduling can be a little more reliable, particularly in terms of how your post will look when it goes live. It is expected that the new option will allow you to use all LinkedIn features including videos with subtitles and also to tag people in the post. In this way, you won't need another tool for this purpose, if LinkedIn is your only channel.
The Linked Blog is here to help you or your brand have the best possible LinkedIn presence, so feel free to contact us if you need help! See what else we can do for you here.