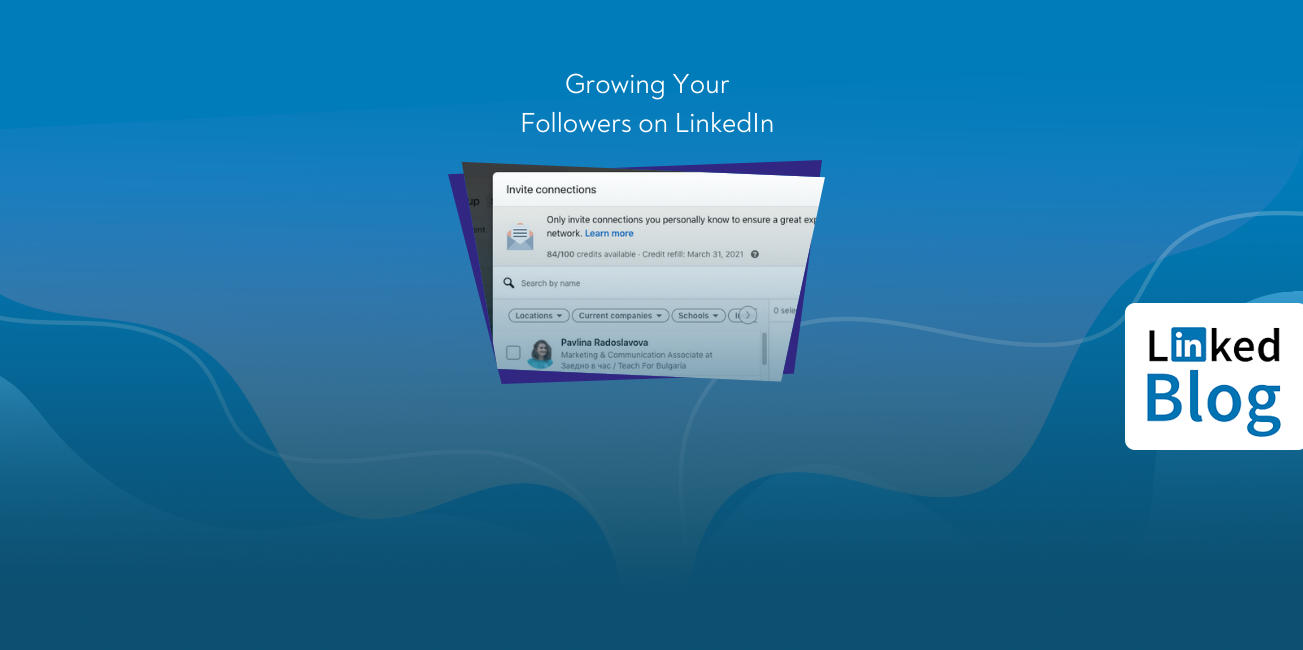 Growing your own network
LinkedIn is the professional network and as such is focused more on the professionals – the personal experience and relationships is what makes you successful on the platform. That's why you should start growing your company's network by growing your own.
Set up your profile for success
Be sure you have an All-star profile and use the right keywords everywhere you can. Don't skip the fields where you have to write a bit longer and personal content like your summary. If you are on LinkedIn, you want to be perceived as a real professional, so don't act like a shy schoolgirl. Build your summary around your key goal on LinkedIn and include as many keywords as possible.
Do the same with any other section of your profile and if you don't know where to start, don't hesitate to contact our team for advice or a training.
Import your email contacts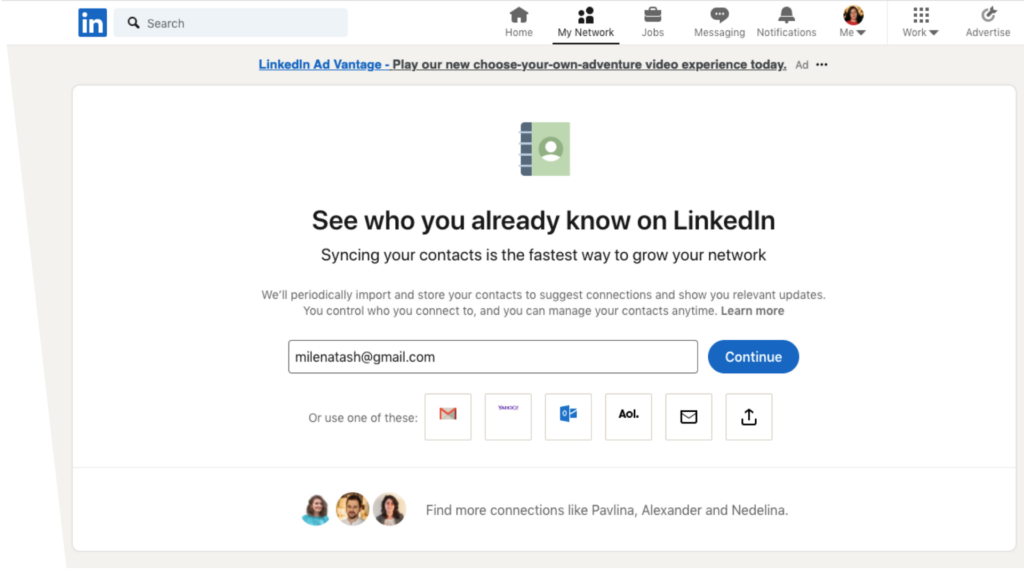 Importing your email contacts is the easiest and fastest way to grow your professional network. LinkedIn will guide you through the process, prompting you to send out invitations even to people who are still not on Linkedin. However, my advice is not to use this option. Take the time to go through all the suggested connections and send an invitation just to people you would like to continue your professional relationship with.
Follow relevant influencers and opinion leaders and engage with their content
If you follow and connect to influencers and opinion leaders in your niche, there is a good possibility that your potential prospects, leads, and clients are following them too. So get them to notice you by meaningfully engaging with their content and participating in professional discussions.
Join relevant LinkedIn groups
LinkedIn groups are usually very segmented to industries and a great place to find like-minded entrepreneurs, future prospects, and meaningful connections. Don't forget to behave like a human and not like a robot. Don't just join a group and start randomly connecting with everyone on the member list. Participate in the group conversations, start building relationships with people and when the ice is broken, then you can connect with a short message and start one on one conversation.
ProTip: Integrate your LinkedIn profile on your other social media. Add a link in your email signature, your Instagram bio, or in your YouTube video's description. And if you already have a personal relation to someone on another platform, based on shared hobbies, interests or even political views, that's what may open the door for you for future business opportunities with that person. Just like in real life.
Harness the power of Sales Navigator
Okay, I get it. You have a goal in mind and you don't have the time or patience to build your network using the above steps. Sales Navigator is a great tool that gives you the opportunity to identify and connect with your desired prospects and start turning them into clients and customers. Don't forget that people prefer to buy from people they know, so the best strategy is always to combine Sales Navigator with building a meaningful relationship with your buyers.
Growing your company's LinkedIn Page
LinkedIn Pages are your company's face on the professional network. Growing its followers gets your brand better exposure to potential leads, helps your sales, marketing, and HR team to reach their goals, and straightens relationships inside the company and employee loyalty.
Creating a successful LinkedIn Page requires strategy, setting your goals, and consistency to help you use LinkedIn's algorithm to your advantage. Here are a few ways to do that.
The house won't fall if the bones are good
Just as your profile, your page needs a strong foundation where you can build your company's lead generation, employer branding, and general LinkedIn presence. According to LinkedIn Marketing Solutions publications pages that have all sections completed are getting 30% more views.
When setting up your page, don't forget a simple rule:
Keywords make the magic happens
LinkedIn's own search tool favors personal profiles to pages, but they are discoverable through search engines like Google. Use relevant keywords in your page description section and pick up to 20 Specialties and 3 community hashtags, connected to your field.
Invite your connections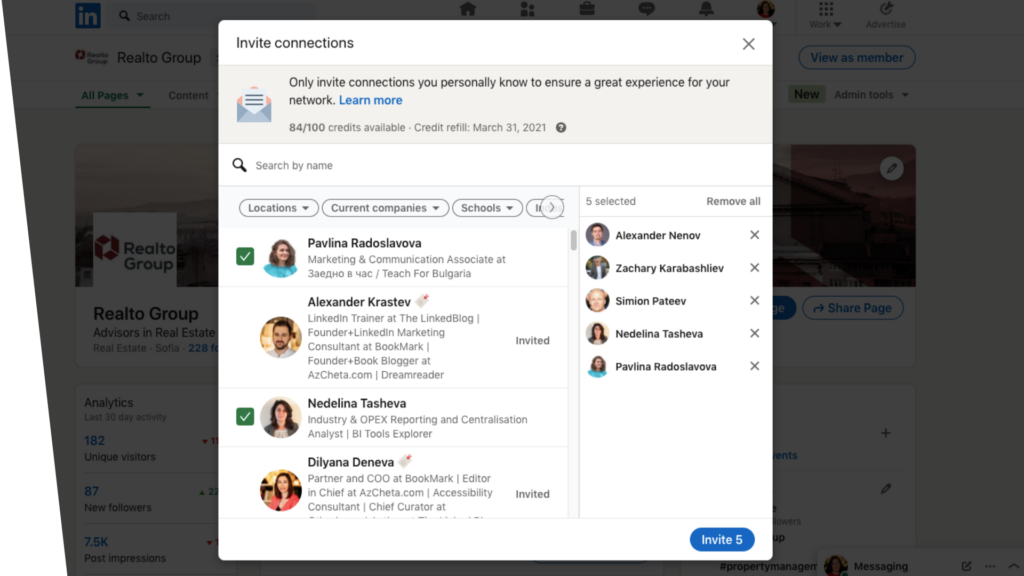 LinkedIn gives you the tool to invite your connections directly. Between all page admins, you have only 100 invitations per month (LinkedIn is experimenting with that number, so if you are lucky, you might get up to 250), so aim for quality, not quantity when sending them out.
You can make a schedule between co-workers with strong LinkedIn networks and/or allocate invitations and give them administration access to the page, so they could invite their connections to follow.
Integrate your LinkedIn Page with other online channels
Sometimes we focus on the details and we forget the basics. Let your followers on other social media, website visitors, and newsletter subscribers know you have a LinkedIn page by leaving a link or a follow button. If you have a YouTube channel, don't forget to leave a link in the description of every video (this works for every social media platform you use, not just LinkedIn) and add a prompt for your viewers to follow you. You can do that for every article you publish on your corporate blog too.
Furthermore, you can turn your and your co-workers' professional correspondence into a growth tool by adding not just your profile link, but also a link to your page to your email signature. Go the extra mile and add a simple but effective call to action. Speaking of your own profile, make sure it's properly associated with the correct company page and make sure all employees do the same, and follow the company page.
Have consistent and various content
Creating a consistent content calendar is key to any social media management, but when it comes to LinkedIn there are a few good practices you should adopt as early as possible.
First of all, take a good look and research all of the possible formats you can use to create content for your LinkedIn page and use them. This is a very long topic that requires a dedicated article but various formats let you tell your company's story and showcase not only products but also values and key principles.
Video and visual content works best on any social media platform and LinkedIn is not an exception, so make sure to favor videos, pictures, and documents (that visualize like carousels) to just sharing links from your corporate blog or PR publications in media. Use plenty of Stories! This function gives you the opportunity to post company-related but also light-hearted content that humanizes the brand.
ProTip: Always use relevant hashtags. Our advice is that at least one of them is branded and connected to your organization.
If you are struggling with planning your post, you can use Page Analytics and Content Suggestion functions to help you.
Name-dropping done the right way
Name-dropping on social media is just as annoying as in real life, if it's not done the right way. Don't just tag people in your post, hoping their network will see your content and will eventually follow your page. Instead, work proactively with influencers and opinion leaders and make it alluring for them to post about you and your brand. Then engage with those posts. Research shows that when the tagged people engage with your content, the algorithm takes it as a sign that that post is relevant and provides value, so it gets better reach and visibility.
Another way to get visibility for your page is by commenting on relevant discussions as it. Follow the simple steps described in this article to do it.
Your employees are your best ambassadors
Getting your employees to engage and share content from your company's page with their own network is key to growing your followers.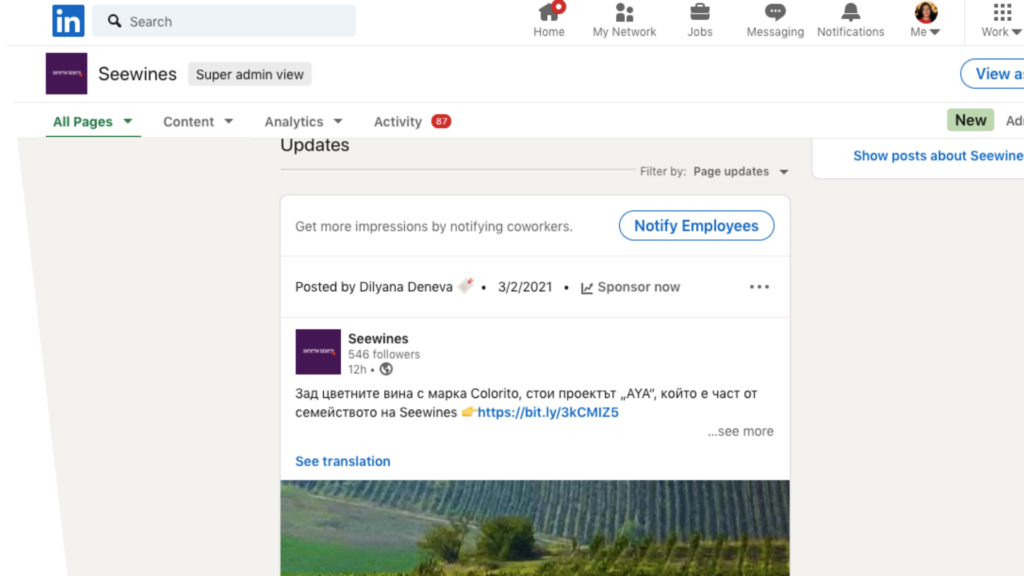 You can use the "Notify employees" button once every 24 hours and it will send a notification to everyone who has connected their profile with your page. How to engage people who have LinkedIn profiles, but do not log in on a regular basis? Use internal communication channels. Every organization has such. Make a habit to drop a link to the important posts and ask co-workers to engage with a reaction, comment, or share. Make sure the management does the same.
Reach a new audience with a Follower Ad campaign
There are a lot of myths surrounding LinkedIn Ads, but one thing you should know is they are worth the effort and usually – the cost. If your goal is to quickly reach a certain number of followers, launching a Follower Ad campaign is a great strategy to ensure it. Best of all is that due to targeting you can be sure your followers are relevant to your business goals.
Showcase Pages
Maintaining a Showcase Pages (an affiliated extension of your company's LinkedIn Page that highlights a specific sub-brand, division, or initiative) gives you an opportunity to reach your targeted audience in another way and help them find your main page.
Do not create a Showcase page at any cost. It is a valuable tool for showcasing distinct verticals and business lines with large potential audiences, but don't dilute your main page with creating Showcase Pages for every sub-division or territory.
Post a Job Listing
Although our team is more focused on helping you harness the power of LinkedIn for achieving your business goals, let's not forget it is also a powerful HR and job hunting tool. Creating a job listing can help you reach a new audience and even gain new employees, not just followers.
After all, a company's network does not consist only of its page's followers. It is built by combining all its employees' contacts into one multilevel supernetwork.
Growing your followers on LinkedIn (or any other social network for that matter) is not an exact science. Don't hesitate to experiment and try different things to find out what works best for you and your page and be sure to share with us.
The Linked Blog is here to help you or your brand have the best possible LinkedIn presence, so feel free to contact us if you need help! See what else we can do for you here and follow us on LinkedIn to stay up to date with our newest articles.