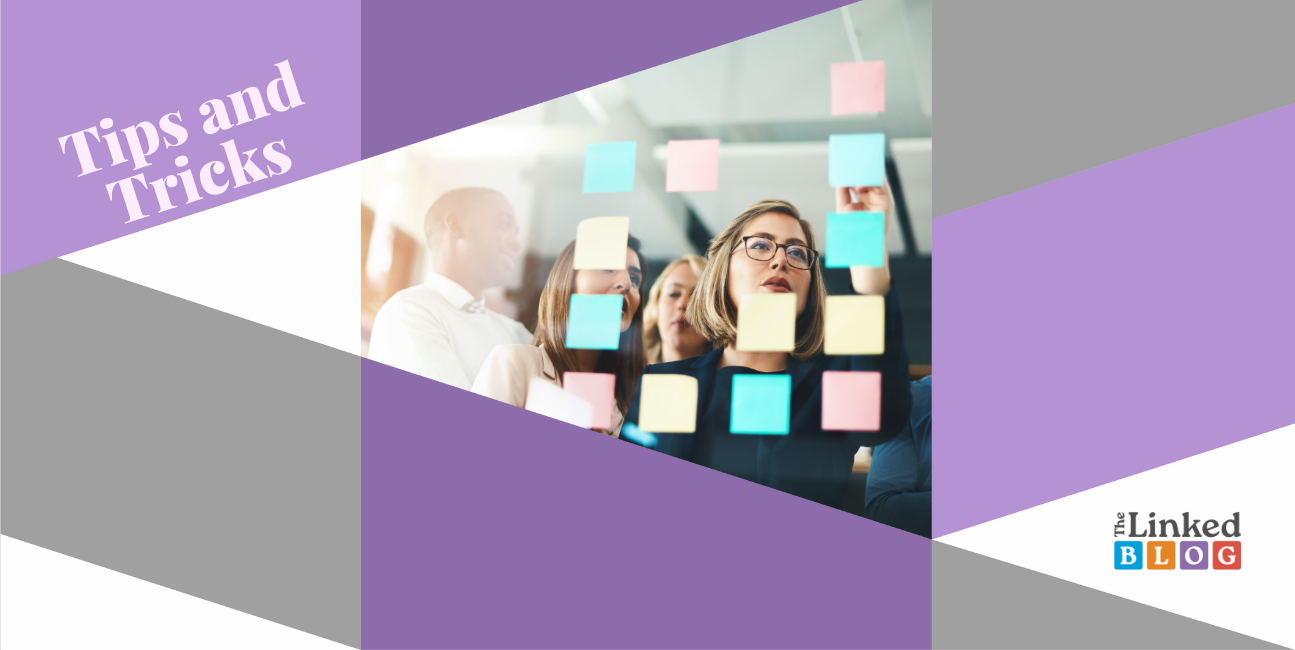 As a LinkedIn user, you understand the significance of having a robust presence on the platform. However, with numerous responsibilities to juggle, developing a LinkedIn strategy can become daunting. This is where a content calendar comes in handy. It is more than just a schedule for posting content. It is a valuable tool that can help streamline the content creation process, maintain post consistency, and enhance audience engagement.
In this blog post, we will explore the realm of content calendars and uncover how they can bolster your LinkedIn presence. We will also examine why planning and scheduling your LinkedIn posts in advance is critical to establishing a solid and reliable brand identity, increasing audience engagement, and ultimately achieving your business objectives. Whether you are new to content calendars or seeking to elevate your LinkedIn strategy, this post is tailored for you. Get set to discover the potential of a well-crafted content calendar for your LinkedIn page.
What is a content calendar?
A content calendar collects, organizes and visualizes the content that will be published weeks and even months ahead, giving a broad view of the presence of the brand on one or numerous channels. We can easily call it "The Calendar of Success" because its preparation and proper use bring many benefits for both company pages and personal profiles.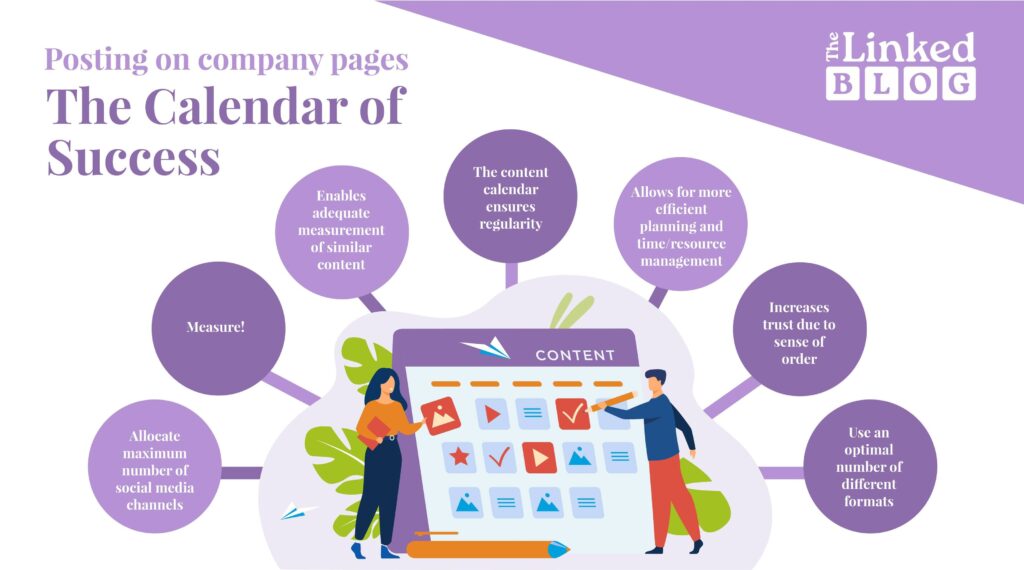 The content calendar is also an important part of the trainings we do at BookMark for corporate clients and individual professionals.
Why is content planning so important and effective?
Scheduling posts allows us to improve their quality. Just like networking in person, to ensure our success in the digital world, we rely on building connections with other accounts (our audience), actively participating in social life (via intriguing posts, initiating discussions, providing useful content) and a memorable visual representation. Each of these elements requires time to create and consider, and sometimes coordination between different members of the team – copywriting, design, and a brand manager. Preparing a preliminary plan for the content to be published provides an opportunity to create and think about it.
Having scheduled content also gives the team peace of mind that they have enough time to experiment and accordingly, validate new formats and create more intriguing posts.
The calendar provides a constant flow of content to the page. This regularity gives confidence to the audience that the page is active and the company has an interest in connecting with its followers and growing with them.
Regular publications provide an opportunity to adequately measure the performance of similar posts. We can easily compare their success and understand when we have intrigued our audience, what topics excite them, and the preferred format for presenting the information.
Last but not least – trust! A content calendar creates order in communication, ensuring a cycle of content types, and thus, creates a sense of calm and trust in the audience. They know that every week at the appointed time they will be able to get more of the content they like – just as they are sure to get the same quality of product/service that the company offers.
How to create your own content calendar?
You can create such schedules in special applications such as Buffer, AgoraPulse, Social Pilot, Hootsuite, as well as use shared documents and tables in which to work as a team. This approach allows you to make planning balanced across topics and formats, but also gives easy access to editing and the ability to coordinate between the different people working on content planning.
To help the process, LinkedIn has introduced a new feature that allows users to schedule their posts directly within the platform. This means that users can set a specific date and time for their posts to be published, without the need for social management tools. This feature is particularly useful for those who use LinkedIn as their primary or preferred social network, as it eliminates the need for third-party tools to schedule posts.
We advise you to explore both options and choose the best approach based on your needs.
How to plan your content calendar?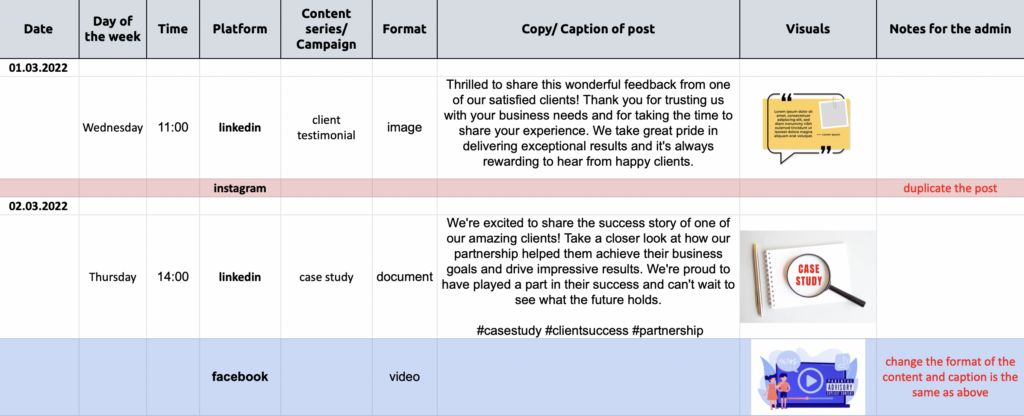 Date and time of publication
The main function of the content calendar is to organize the content and distribute it by day, time, and social media channels.
The success of a publication depends largely on the time in which we post it. The days and times that are good for sharing are influenced by global trends in social media user engagement, but also by audience specifics. It's good to test different time zones to find the best time.
A number of platforms, including those mentioned just above, can be useful for organizing content into scheduled posts to be shared automatically according to pre-set parameters – date, time, and frequency. They can also be useful for effectively tracking audience reactions, post and page engagement.
Social media
It is important that the content we publish on various social channels is tailored to the specifics of the design, audience and the formats supported by the platform.
Pro Tip: Avoid duplicating content across social media channels on the same day.
Content series
Content series are a great way to build a loyal audience that follows the page in anticipation of the content. In them, we can combine a wide range of posts related to a common theme, a common format, even a common author. It is important that the created content series fully represent the company.
Pro Tip: Giving team members stand-alone content series increases their engagement with the company page. The preparation of material for a content series can also be entrusted on a rotational basis within the team, encouraging the authors' creativity and initiative.
This approach is part of our corporate culture and can be seen clearly in our weekly LinkedLetter newsletter.
Format
In our LinkedIn company pages we can share most of the content we create for our company site. The more formats we use to present the content we create, the better our calendar becomes and the company page becomes more interesting.
So we can transform blog text into a link share post, then into a document type carousel, LinkedIn Article, short video or infographic. Thanks to the content calendar, we can schedule for weeks ahead. Therefore, content and formats can rotate – we're sure you don't want to bore your audience.
The success of a company page depends on the participation of all teams in the entire company. Whether one person or several people work on its content calendar, employee engagement with the content the company shares gives the posts extra value.
You can use our free social media content calendar template – just download the file or make a copy in your Google Drive. Check it out at this link.