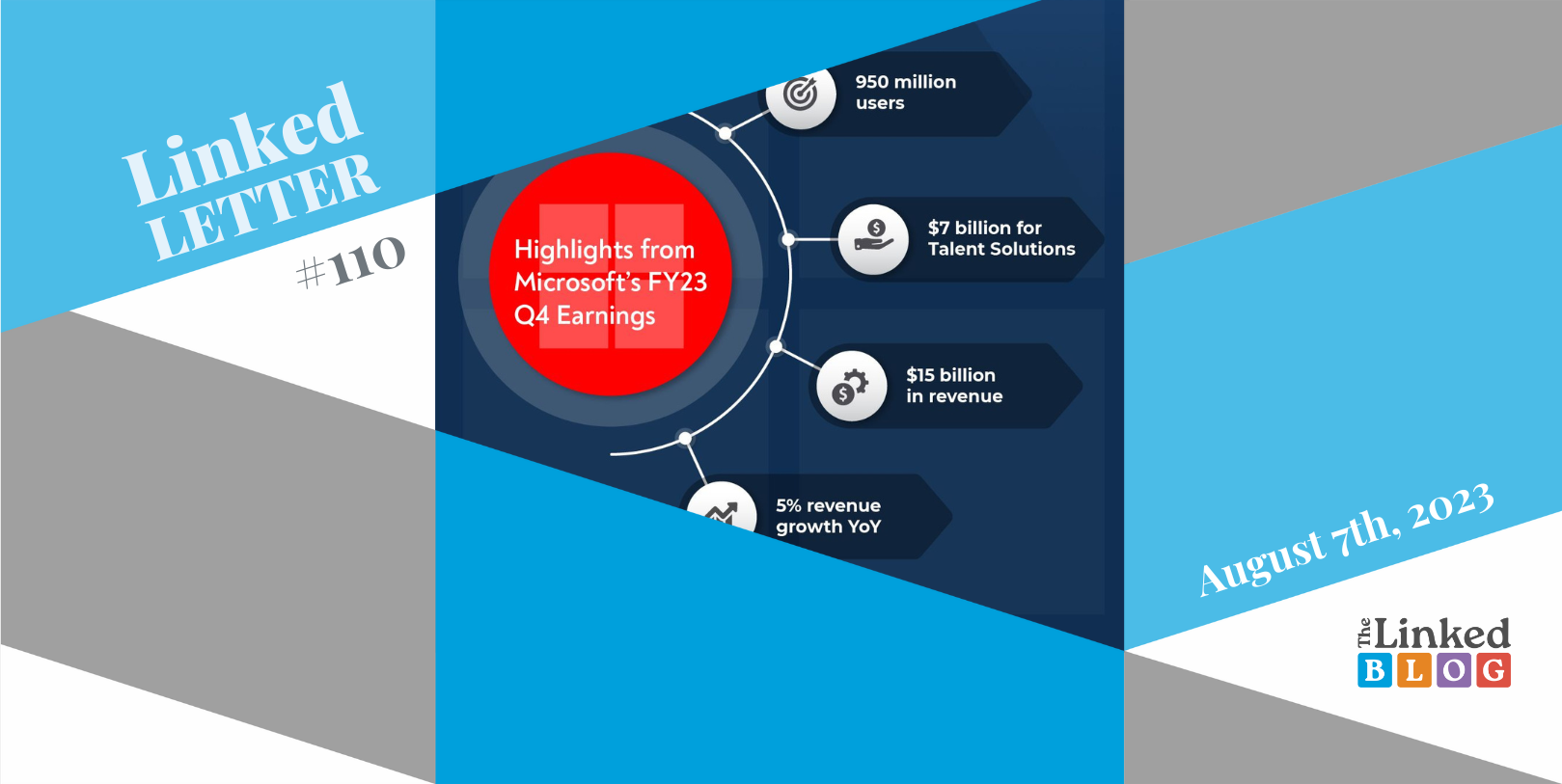 LinkedIn recently came up with some astonishing news, and as you can correctly guess, we are the messenger! The new LinkedLetter is here to highlight the most important updates on the platform. Undoubtedly the most major of them all is the milestone of 950 million users that LinkedIn recently achieved. The new powerful Microsoft Designer web app is now on LinkedIn, taking creativity to a new level, AI 'coach' is now here to help you with job searching and new Active Badges are granted to groups. Eager to learn more about all these updates from the past two weeks? Read the newsletter below!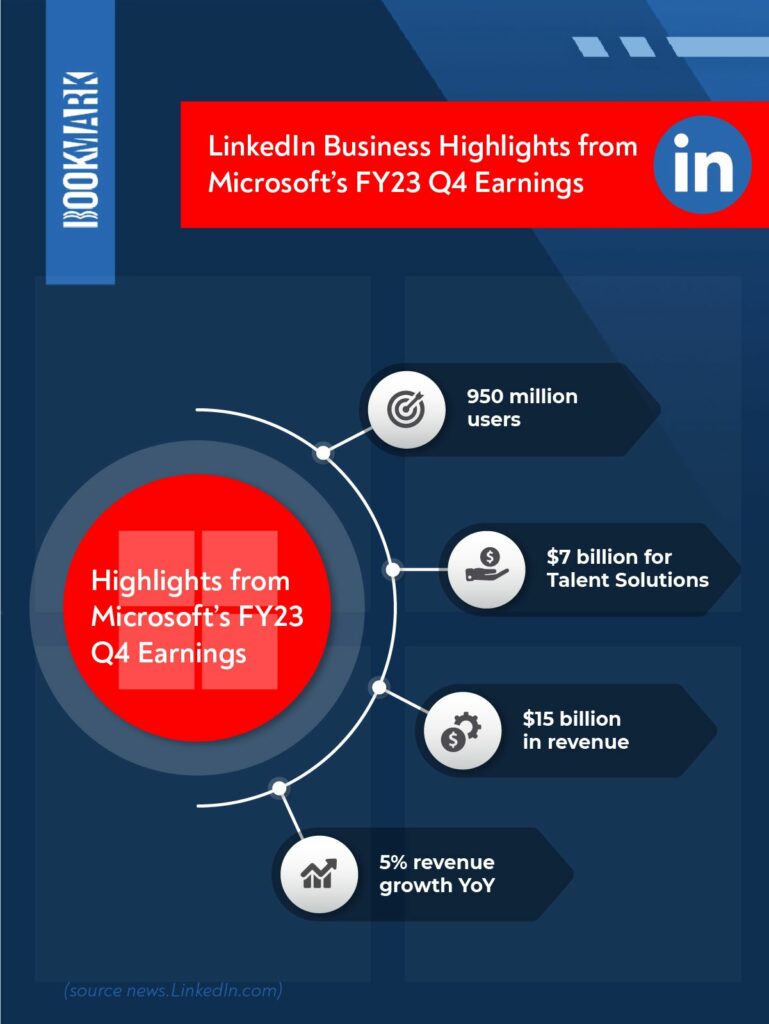 LinkedIn shines with impressive accomplishments in the Q4 FY23 Earnings report, released by Microsoft. The platform's revenue experienced a 5% year-over-year increase (7% in constant currency), surpassing the significant milestone of $15 billion for the fiscal year (ended June 30, 2023). Impressively, LinkedIn's membership growth has shown eight consecutive quarters of acceleration, underscoring its vital role in facilitating connections, learning, sales, and hiring for over 950 million members. Also, the talent acquisition company continuously increased its market share for the fourth consecutive quarter, and the Talent Solutions sector reached a record revenue milestone by crossing $7 billion in the previous 12 months.
AI integration has been essential to improving user experiences; collaborative articles driven by AI are now the platform's fastest-growing source of traffic. Furthermore, LinkedIn has demonstrated its commitment to trust and authenticity, with over 7 million members verifying their identities or workplaces through innovative integrations such as Microsoft Entra, CLEAR, and Hyperverge. These achievements underscore LinkedIn's unwavering position as a cornerstone in the professional networking landscape.
Microsoft has uncovered an innovative tool, Microsoft Designer, an AI-powered graphic designer web app similar to Canva, that simplifies the creation of visuals such as social media posts, digital postcards, and graphics through intuitive text prompts. The application utilizes AI to generate personalized designs and suggestions based on user input or existing images. Recently, Microsoft has taken a step further by introducing a test integration of Microsoft Designer on LinkedIn's desktop version, catering to a select group of members.
This integration empowers LinkedIn users to seamlessly craft bespoke designs and original visuals directly from the platform, enabling them to enhance their posts with eye-catching graphics that can effectively captivate audiences. The feature offers immense potential, allowing professionals to elevate their content by effortlessly generating attention-grabbing designs tailored to their specific needs, thus enriching the LinkedIn experience. Although the integration is being tested among a limited set of LinkedIn members, it signifies a promising advancement in bridging AI-powered design capabilities with the professional networking arena.
In the ever-evolving landscape of professional networking and job search, LinkedIn is making waves with its potential upcoming release of an AI-driven "Coach" tool. Designed to assist users in navigating the intricacies of job hunting, applications, and researching company culture, the tool aims to provide tailored guidance backed by the power of artificial intelligence. App researcher and web developer Nima Owji recently shared a sneak peek of the tool, hinting at features such as job application assistance, skill acquisition, and network expansion.
With users able to pose queries like "how does Coach work?" or delve into organizational culture inquiries, this potential addition showcases LinkedIn's commitment to leveraging AI to elevate the job search experience. As Microsoft, LinkedIn's parent company, continues its strides in AI innovation, including the release of the Bing GPT-4 chatbot and collaboration with KPMG for generative AI tools, the LinkedIn Coach tool adds to the intriguing AI-driven advancements on the horizon. While LinkedIn refrains from specific comments on the tool's development, the anticipation surrounding its potential impact is evident.

LinkedIn has introduced an exciting new feature for groups known as the "Active Group" Badge, aimed at promoting vibrant community engagement within these groups. Groups that sustain consistent monthly conversational activity, characterized by member posts and comments, qualify for and retain the active group badge, a visible marker displayed on the group page. This badge not only celebrates the group's liveliness but also entices potential members to join. The badge is earned each month based on two key criteria: a minimum of 10 posts with over 1 comment and involvement from at least 10 distinct members through posts or comments. This initiative reinforces LinkedIn's commitment to fostering interactive and dynamic group interactions. Notably, the badge remains displayed for 60 days, disappearing if the activity quota isn't met for two consecutive months.
Now last, but not least, we want to show you a little trick on how to go viral on LinkedIn. But keep in mind this is just for fun!
The Linked Blog is here to help you or your brand have the best possible LinkedIn presence, so feel free to contact us if you need help! See what else we can do for you here.